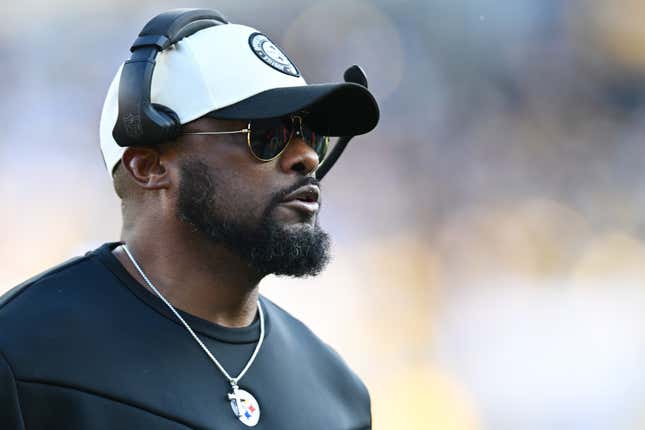 When the Pittsburgh Steelers defeated the Cleveland Browns 28-14 at home on Sunday, it capped a season in which they won their last four games despite starting 2-6. And while Pittsburgh just missed out on making the postseason for what would have been the 11th time in Tomlin's 16 seasons on the sidelines, their valiant effort helped keep their coach's streak alive — as Steeler fans haven't suffered a losing season since Bill Cowher went 6-10 in 2003.

Mean Joe and Tommy GOAT | Michael Evans Behling's Ultimate Sports Fantasy
One day in the future, Mike Tomlin will be at an event for members of the Pro Football Hall of Fame. There will most certainly be a table for the game's greatest coaches, and there will be a seat saved for Tomlin. There will also probably be a table for coaches with Super Bowl rings — which Tomlin will also be allowed at. And then over in the corner will be a table exclusively for Tomlin — given that he's the only coach in NFL history to never have a losing season in his career.

Tomlin isn't just the best Black head coach in NFL history — he's one of the best we've ever seen, regardless of color, in a league that does everything it can to discourage, discount, and disregard men that look like him from coaching.
This is the part of the column where I take a moment to brag. Because before this season started, I begged all of my colleagues at Deadspin not to count Tomlin out. All of them stood in unison in their beliefs that due to quarterback play, lack of explosive weapons on both sides of the ball, and time, that this was the year in which Pittsburgh would lose more games than they'd win. The folks over at FiveThirtyEight also didn't trust Tomlin, as they predicted that the Steelers would finish at 8-9.
They didn't believe in Tomlin, but I did.

Why?

For one, I don't generally believe people until they show me who they are — and Tomlin still has never shown any of us that he's capable of a losing season. And secondly, Tomlin's existence epitomizes the frustrating plight of Black head coaches in the NFL and how they are viewed by fans and "the media." Despite all the things he's endured during his tenure, he's still not mentioned when most people speak of the best three-to-five coaches in the NFL. He's never given his full credit when he succeeds, and when things aren't looking good people doubt him, though he's never given us a reason to be concerned.

Sixteen seasons. Two Super Bowl appearances. One Super Bowl ring. Zero losing seasons. And the second-youngest coach to ever lift the Lombardi Trophy. But yet, people thought that Mitchell Trubisky and Kenny Pickett were going to be the death of Tomlin, in a season in which the rookie outlasted Deshaun Watson and Derek Carr down the stretch.
If Tomlin were white, he'd undeniably be on the Mount Rushmore of NFL coaches. The mention of his race needs to be stated here, given that the day this column was written was on "Black Monday'' — the annual day on which NFL teams fire head coaches. Historically, Black coaches get the short end of the stick — like Lovie Smith. But, that's only in the cases in which Black coaches are lucky enough to get opportunities.
According to ESPN, of the 258 regular season games that Tomlin has coached in Pittsburgh, his teams have been mathematically alive for the playoffs in 257 of them. But yet, people dared to doubt him, and probably will again next season because most humans have a disdain for learning from their mistakes.
However, the best thing that Tomlin did during the 2022 NFL season wasn't extending his streak. It occurred in the preseason when he hired Brian Flores — who's currently suing the league for its racist hiring practices — after he was fired as head coach in Miami. This past season, the Dolphins gave new head coach Mike McDaniel — who identifies as human, with a Black father — all the bells and whistles that Flores didn't have.

On Sunday, the Dolphins advanced to the playoffs despite losing five of their last six games, needing a 50-yard field goal to be the deciding factor against the Jets and a Patriots loss to the Bills to send them to the playoffs. Mike McDaniel finished with a 9-8 record, which was the same record Brian Flores had before he was fired. This entire column has been an example of the plight of Black coaches in the NFL — and that goes for the ones who've never had a losing season, and the ones who'd rather win their last game of the season — giving their team the No. 2 pick in the draft — over losing and locking up the No. 1 spot.