Stephen Strasburg wasn't supposed to pitch today. After a ridiculous 24-hour news cycle in which he was alternately said to be unable to start because he pitched a Tuesday bullpen session, to have actually pitched that Tuesday bullpen session on Monday, to really only be unable to start because he was sick from a moldy hotel room and finally to be so sick that he was unable to run a half-mile—as of just a few hours before the scheduled first pitch, Strasburg wasn't starting Game 4 and there was seemingly no chance of him doing so. But out of nowhere, that changed, and we got Strasburg on the mound for today's elimination game against the Cubs. And holy hell, was it beautiful.
Strasburg threw a gem back in Game 1—10 strikeouts, three hits, and a team that offered zero run support and made some costly errors on defense that led to a 3-0 loss. Today, he topped that, and he got a 5-0 victory to show for it. In seven innings of work, Strasburg kept Chicago scoreless on three hits and two walks. With 12 strikeouts, he beat his own franchise record for most strikeouts in a postseason game. Of those, 11 of the 12 were swinging (and the one that wasn't was the opposing pitcher, so who really cares) and the hero was his changeup.
The pitch is generally filthy, but it was extraordinarily so today. It wasn't simply that batters couldn't hit it; it was that they looked extremely silly to even try to do so.
Seven of his strikeouts today came on the changeup, and nearly all of them looked as ridiculous as above. Strasburg has used both his curve and his change more often this year—throwing his fastball for 51 percent of his pitches, compared to 57 percent last year and 63 percent in 2015. His changeup in particular has proven more effective this season, with more than half of its swings ending up as whiffs. Tonight, it was even better. Of the 32 changeups he threw, he earned 15 whiffs on 23 swings, putting the ball in play on the pitch just twice and creating easy outs both times.
G/O Media may get a commission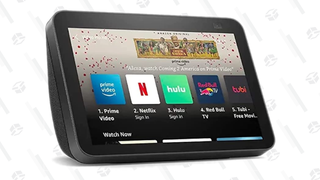 After working with a 1-0 lead for most of the game, the Nationals gave themselves a little more breathing room with an eighth-inning Michael Taylor grand slam—a Michael Taylor grand slam—to opposite field, on a night where nothing would carry. The Nationals get to play another day, with a chance to win the first playoff series in team history tomorrow.
It's unclear just how sick Strasburg was today—whether this will be remembered as a new version of the Flu Game, or as something less dramatic—but it doesn't really matter much. However he felt tonight, he looked absolutely insane, and it was a joy to watch.