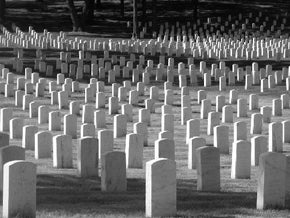 Perhaps you've already heard of Italian soccer superfan Massimo Pecorino, who has erected gravestones on a local mountainside; one for each loss suffered by his favorite team, Inter Milan. It's an idea that could catch on ... in this photo we see the aftermath of a typical Knicks' season.
He says grave mistakes can only be marked by a grave where he buries his hopes and dreams, near his home town of Cortona. Pecorino said: "Instead of enjoying a celebration I felt like I was at a funeral, so I spent the day carving out my fury on a stone."
All fine, but a quick check of the standings shows Inter Milan with a 30-1 record this season. Adding up all the team's losses since 2003 is the only way to get to 20 ... so what's this guy complaining about? Try being an Orioles fan for just one week, you whining twit.
Man Marks 'Death Of Football' [Ananova]