Medora High School has one of the smallest student bodies in the state of Indiana—two years ago, the senior class had just 16 students—and the win/loss record of its boys' basketball team suffers as a result. (A lot.) Yet, in 2009, the team's continued perseverance and tenacity caught the attention of The New York Times' John Branch, whose article caught the attention of a couple of New Yorkers, who decided to travel to Indiana (with no financial backing) to film a documentary on the players' lives, both in basketball and beyond.
After two years, the project is now nearing completion and being co-executive produced by actors Steve Buscemi (Fargo, Reservoir Dogs) and Stanley Tucci (The Hunger Games, Captain America). Co-directors Davy Rothbart and Andrew Cohn describe the film as "a real-life, modern-day Hoosiers."
Our documentary, Medora, follows the down-but-not-out Medora Hornets varsity basketball team over the course of the 2010 - 2011 season, capturing the players' stories both on and off the court. The Hornets were riding a 44-game losing streak when we arrived, often playing schools ten to twenty times its size. The team's struggle to compete bears eerie resonances with the town's fight for survival in a country whose economy has shifted away from farming and manufacturing. Medora is an in-depth, deeply personal look at small-town life, a thrilling, underdog basketball story, and an inspiring tale of a community refusing to give up hope despite the brutal odds stacked against them ...
The entire movie has been shot and the teaser footage looks absolutely riveting, definitely more Hoop Dreams than Hoosiers, with a dash of Basketball Diaries thrown in.
Just one small problem: They need to raise some funds to get the project finished. The plan is to have that done some time in the fall, but only if they meet their fundraising goal. (They're halfway there now.) Give at least $50 and they'll even thrown your name on screen as the credits roll, giving you a lifetime's worth of sweet iMDB cred.
G/O Media may get a commission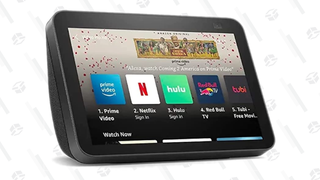 MEDORA - Documentary Film [Kickstarter]