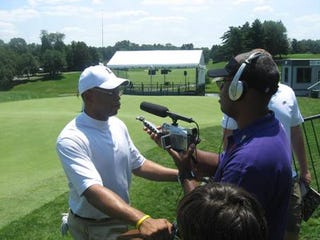 Washington Post Bog maven Dan Steinberg once again caught up with everybody's favorite late night text-messager, Stu Scott, for a little chat about, oh, anything he could think of at the time.
Steinberg asked Scott if his blog-reading habits have changed since the last time they spoke. Nope:
Dan Steinberg: Hey, Stuart, got a second? I talked to you last year at the Spelling Bee....

Stuart Scott: Oh, the blog! My brother actually saw it and he kind of directed me to it.

DS: Did I malign you?

SS: You were honest. It was cool. First and only blog I've ever read.'

DS: I feel like things have changed since then, I feel like they've gone a lot more mainstream since then.

SS: What, blogs? They may have.

DS: I'm just curious if you've changed at all?

SS:[Shakes Head]

DS: Guess not.
Steinberg then followed Stu around a bit more, peppering him with questions about all sorts of media-related inquiries and then he drops this one on the Boo-Yah.
At this point, I told Scott that A.J. Daulerio, his foil from Super Bowls past, had been named Deadspin editor. Scott wasn't immediately familiar with the name. "Whatever," he said, when I explained who he was. "If that's what he wants to do with his life...."
A.J. Daulerio: [Shakes Tunica Albuginea ]
A Converastion With Stuart Scott [D.C. Sports Bog]