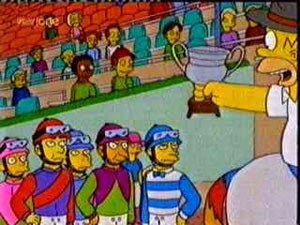 What could be worse than being busted for marijuana in a random drug test? Well, perhaps being known for the rest of your life as "The Dildo Jockey." Yeah, that would be a little embarrassing, we think.
A Toowoomba jockey has been caught using a sex aid in an attempt to deceive stewards in a drug test. Jason Warrington had left the track when he was asked by Queensland Racing stewards to return to provide a urine sample for precautionary drug testing. Acting chief steward John Hackett caught the jockey squeezing urine from a dildo concealed inside his pants.

"I tried to cheat the system and I got caught," Warrington said on Radio TAB today. "It was one of those stupid things you do."
And now this update from Wikipedia:
In Japan, many dildos are created to resemble animals or cartoon characters, like Hello Kitty, so that they may be sold as toys, thus avoiding obscenity laws.
Perhaps Warrington shouldn't have used the "Inspector Gadget" model. And where's Fred Smoot when we need him? Oh, they cut him!
Dildo Jockey 'Panicked' [Fox Sports]
Dildo [Wikipedia]