Unexpected goalies have a history in Pittsburgh. They probably don't get that first Cup back in '91 if Frank Pietrangelo hadn't stepped in for an injured Tom Barasso and robbed Peter Stastny. Johan Hedberg was a career minor leaguer before leading the Penguins to the conference finals in 2001 and becoming a local sensation. Even last year's Cup run started off with a dude named Jeff Zatkoff in net.
The unexpected goalie last night, and for who knows how long going forward, just happened to be the winningest goalie in Pittsburgh Penguins history. Marc-Andre Fleury, relegated to a backup role this season and who might've been expected to be shipped out at the trade deadline (and is still probably a good bet to get moved this summer), stepped up after a last-minute injury to Matt Murray and was excellent, making 31 saves in Pittsburgh's 3-1 win over the Blue Jackets to take a 1-0 series lead.
"What can you say about his character and compete level, just to step in and be as good as he was, especially in that first period?" [coach Mike] Sullivan said. "We needed him because they controlled the game."
The Penguins were outshot 16-3 in the first, when nerves are tautest, but Fleury stopped everything, most notably a pair of Zach Werenski shots, one from the top of the right circle and the other from the left point. Pittsburgh's defense mostly handled things the rest of the way, but that first period was all about survival, and Fleury, who was only told he would start when he left the ice after warm-ups, was the reason the Pens survived long enough to score thrice in the second.
His teammates were thankful, and they were excited to see Fleury hear his name chanted one more time in this building, because no one knows how long he'll be here.
"I couldn't be happier for a better guy," defenseman Trevor Daley said. "There's a reason you call him 'dude.' He's the coolest dude around."
G/O Media may get a commission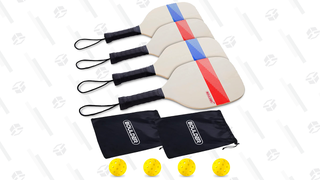 It's Pickleball
Pickleball Sets
Fleury is 32 but feels like he should be older, if just because he's been around forever. He's been in the league longer than all but two active goalies (Roberto Luongo and Ryan Miller), and obviously has the longest tenure with a single team since making his NHL debut at age 19 in the last pre-lockout season. It's been a tough season, being outranked and outplayed by 22-year-old Matt Murray, and the Penguins just don't need Fleury anymore—except when they do.
Fleury was a likely trade deadline target for a number of teams, and there was some surprise that he stayed put. (A limited no-trade clause may have helped.) But GM Jim Rutherford has said all along that he'd prefer to keep Fleury, and this is exactly why. You never know when you'll need a 1B goalie to step in in the most crucial part of the season. You always know that it's not possible to have enough goaltending. No matter what happens from here out, last night validated Rutherford's decision.
For both storylines and matchups, Murray's health is a big deal. He's listed with a lower-body injury, and appeared to re-aggravate something in his right leg that he initially suffered while stopping Taylor Hall on a breakaway in his last regular-season start a week ago. Murray will be re-evaluated today. There is, at leat, no other team in better shape to withstand the lengthy loss of their top goaltender.