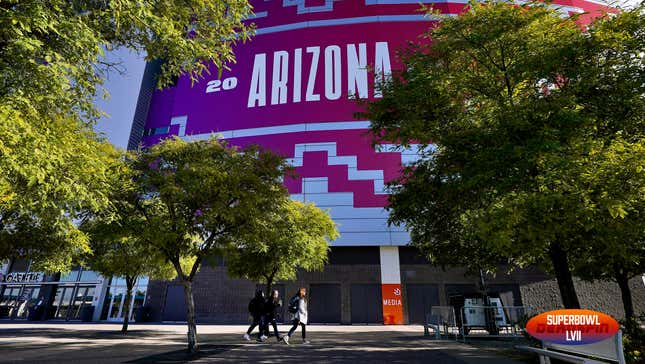 Betting can be an exciting addition to the traditional enjoyment of a sporting event, but it's never worth losing your hard-earned cash. Bet responsibly, and only bet with expendable money you're willing to lose. With that said, there are more than a few interesting lines and prop bets coming up next weekend. Of course, you can always bet on the outcome of the game or the over-under, but this year's Super Bowl matchup seems particularly difficult to pin down.

Which NFL team had the most improbable Super Bowl win?
On one hand, you have the perennial favorites, the Kansas City Chiefs. They're not a team anyone bets against lightly. No matter how well you believe the opposing team matches up, this is a team that just manages to win, time in and time out. Currently, they are 1.5-point underdogs. The Eagles are a really well-built team with Pro Bowl-caliber players at absolutely every level of both their offense and defense. However, the unstoppable aura that surrounds the Chiefs is difficult to look past, and the level of the Eagles' success in these playoffs is easily mitigated by looking at who they had to play to get to this moment.

The 49ers were supposed to be a tough matchup, but quarterback Brock Purdy barely got an opportunity to throw. Sure, the Eagles put up 31 points on that daunting 49ers' defense, but if not for a non-catch by DeVonta Smith that set up the first score, a mishandled snap from 49ers' backup Josh Johnson that led to the Eagles' second score, and a questionable roughing the punter penalty that set up another score, we might be talking about an entirely different ball game. All that, and the fact that the Niners almost made their star running back their go-to passer. Although Philly's win over the Giants was definitely impressive, it was to be expected as well given the Eagles' drastically superior talent pool as well as the fact that they were coming off a bye week.

It's difficult to call, and that's why I don't feel good going either way. If you want to do something like betting both sides slightly to your advantage like putting a unit on Chiefs (-3) while simultaneously putting another unit on Eagles (-3), considering both would be better odds in the books' favor, you might be able to come out with a little extra money either way with minimal risk considering that any line three points or less is considered a pick 'em in the betting world.

Eagles, Chiefs prop bets
If that's not your cup of tea though, and you're looking for something with a little more juice, here are some prop bets I really like.

Kenneth Gainwell Receiving Yards O/U 10.5

Prediction: OVER

While most sportsbooks have Gainwell's line at 11.5, FanDuel currently has it set to 10.5. That already implies that there's money to be made here. Gainwell has seen a lot of work the last two weeks and while a lot of that can be attributed to game script shifting in favor of leaning on running backs, there's also reason to believe Gainwell is being looked at favorably by the Eagles' coaching staff.

Gainwell is also the most prolific pass-catching back on the Eagles. Should the game script flip in favor of the Chiefs, odds are that Gainwell will see the field more often than any other Philadelphia back late in the game. Even if he gets only two or three targets, Gainwell has shown an ability to make the most of his opportunity, breaking a 17-yard gain on a quick pass against San Francisco. All it takes is one of those for Gainwell to hit his over, and I'd be willing to bet he'll get more pass-catching work in this game than in the Eagles' other two games combined.

Chiefs Team Rushing Yards O/U 99.5

Prediction: UNDER

The Chiefs have never been a very efficient rushing team, and in close games, the Chiefs don't run the ball very often. In 2022, the Chiefs failed to record a single game with over 100 rushing yards when they recorded 20 or fewer rushing attempts (five times), and even when they have rushed the ball 20 or more times in a game, they don't always reach the 100-yard threshold (three more times). I would expect this game to be close, and thus, I doubt the Chiefs will fall into the running game. Therefore, they shouldn't reach 100 yards. It's as simple as that.

The Eagles' run defense is somewhat questionable. They'd allowed at least 100 rushing yards in six straight games before their matchup with San Francisco. However, those games were all against run-heavy offenses. Kansas City is not.

Chris Jones NOT to record a sack (-108)

Chris Jones is a game-changing pass rusher. No one is denying that. However, I trust the Eagles' offensive line just a little bit more. Against the 49ers, Lane Johnson and company held DPOY candidate Nick Bosa to zero sacks and zero QB hits. That's tough to do. Bosa had at least one quarterback hit in all but two games this season and to see such a dominant pass-rusher get held in check all game is insanely tough.

Jones does have a few things going for him. For one, it's likely the Eagles pass the ball more in this game. Given San Francisco's devastating luck with QB injuries, the Eagles were in a position to wind the clock down early. They likely won't have the same luxury against Patrick Mahomes. More pass-rush opportunities could lead to one sack. However, the Eagles have been phenomenal at shutting down opponents' top pass rushers all year.

Lane Johnson, Landon Dickerson, and Jason Kelce all finished top-10 in the NFL in pass block win rate this season. That's one guy at every level of the offensive line. No matter where Jones lines up defensively, he's going to pair up against an absolute dawg. Jones did post the second-highest pass rush win rate among defensive tackles in the NFL this year.
However, he was double-teamed at a pretty mediocre rate. I'd expect the Eagles to put more effort into trivializing Jones' impact, forcing someone like Frank Clark or rookie edge rusher George Karlaftis to beat them instead. Jones will likely still leave an impact, I'd just be willing to bet that impact won't show up in the sack column.