While the Super Bowl has become the holiday of choice for many groups of people, it's possible that nobody will enjoy Super Bowl Sunday more than degenerate sports bettors with a one-day excuse to bet on anything in the known physical universe.
Every year, bettors are offered an array of Super Bowl prop bets that is unmatched by any other sporting event. And while every sports book will be offering props on the coin toss and how many touchdown passes Peyton Manning will throw, here's a rundown of the best, most unconventional Super Bowl props of this year's bunch.
Bovada has, by far, the most comprehensive selection of novelty props. They make sure to cover all aspects of the game day experience, even finding a way to make listening to Joe Buck and Troy Aikman fun without the use of hallucinogenics. They also offer the coin toss at -105 instead of -110, which is awfully nice of them.
Will Knowshon Moreno cry during the national anthem?
If Renee Fleming wears gloves during the national anthem, what color will they be? (Choices: red, black, white, or any other color)
Will Richard Sherman be interviewed on the field by Erin Andrews after the game?
Will Michael Crabtree mention Richard Sherman in a tweet during the game?
How many times will "Beast Mode" be said? (Over/Under 2)
Total Robert Turbin rushing attempts (Over/Under 3, Turbin has run the ball three or more times in 14 of Seattle's 18 games this season)
G/O Media may get a commission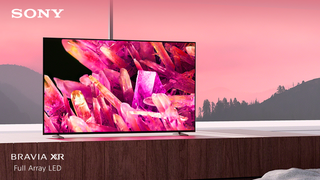 $400 off
Sony 55 Inch 4K Ultra HD TV X90K Series
What bwin lacks in creativity in its selection of Super Bowl props, it makes up for in organization. Each prop is categorized based on what segment of the game it covers, unlike Bovada and its miles long lists of just player and team props. bwin even allows users to skip right to punting props, a big deal to this site's readership. They also earn huge points for offering the most interesting version of the "How many times will Peyton Manning say Omaha" prop.
How long will the game's longest punt be? (Over/Under 50.5 yards)
The games first punt will be… (Choices: caught cleanly, hits the ground, travels out of bounds in the air, a touchback, or blocked/tipped)
Weather at the Super Bowl (Choices: field fully covered in snow, temperature above 32 degrees Fahrenheit, temperature below 32 degrees Fahrenheit)
How many times will Peyton Manning yell "Omaha" during the game? (Choices: under 31, between 30 and 40, over 39, or zero times)
A staple of Super Bowl betting is its cross-sport props, pitting athletes against one another whose totals are only measured against one another on this one day each year. While William Hill's list is nowhere near as comprehensive as other sports books, it is an entertaining group, one that even takes a nice jab at the Seahawks' ability to hold a lead.
Number of Super Bowl interceptions vs. Luis Suarez goals against West Brom
Goals in Arsenal/Crystal Palace match vs. Peyton Manning touchdowns
Fumbles lost in the Super Bowl vs. Cristiano Ronaldo goals against Athletic Bilbao
Doug Baldwin receptions vs. goals in Manchester City/Chelsea match
Will there be a failed Hail Mary pass in the Super Bowl? (Yes: 3/1)
Will Seattle lead by 14 or more points and still lose the Super Bowl? (Yes: 6/1)
Since it's an American sports book, the LVH has the Super Bowl well covered. However, its cross-sport props are where it shines. We're talking rugby crossed with American football, the Slim Reaper vs. Peyton Manning, and a ton of other brilliant props.
Points in the RBS 6 Nations rugby match between Ireland and Scotland -4.5 vs. distance of the first made field goal in Super Bowl XLVIII
Number of completed rounds in UFC 169 main event (Faber vs. Barao) +0.5 vs. Julius Thomas receptions
Total points from Big 10 basketball teams on Sunday -0.5 vs. Peyton Manning gross passing yards
Kevin Durant points +7.5 vs. Peyton Manning pass attempts
Will there be a safety? (Yes +550, No -800. There have been eight safeties in Super Bowl history, an average of one in every 5.875 Super Bowls)
Paddy Power was a huge disappointment, only because of the lofty standards they set for themselves by offering action on things like Bono becoming the next pope, referee Howard Webb becoming the next Manchester United manager, and plenty of other silly scenarios.
To their credit, though, they offered the best "Who Will The Super Bowl MVP Thank" prop of the lot, and gave bettors a little value by offering an opening kickoff return touchdown at 50/1 odds, when it has happened in one of the first 47 Super Bowls.
Will the opening kickoff be returned for a touchdown? (Yes: 50/1)
Will Seattle return the opening kickoff for a touchdown? (Yes: 80/1)
Will Denver return the opening kickoff for a touchdown? (Yes: 80/1)
Who will the Super Bowl MVP thank first? (choices include Michael Crabtree, Omaha, and the sponsors)
Will the Super Bowl MVP come from the losing team? (Yes: 66/1)
Who will be shown on camera first post-kickoff: Archie Manning or John Elway?
Which coach will be shown on camera first post-kickoff: John Fox or Pete Carroll?
Finally, since degenerate gambling is really about immersing yourself in it, here is a hastily formatted list of (virtually) every single prop on the board. They are available on Bovada, unless otherwise noted.
Image by Sam Woolley