Deadspin s own A.J. Daulerio has been in Detroit all week, trying to find things to do. He files this report; check out all his reports right here. His final entry will come later this evening.
Good afternoon. Congratulations Pittsburgh Steelers. I ve discovered a few things this weekend. One: It s just as tough to get into a Detroit homeless shelter without press credentials as it is, oh, the ESPN or Maxim party. And two, celebrities, in some cases, are more important during Super Bowl weekend than the actual players. And, also, that PR people are friendly to you as long as you play by their rules. If you don t, well, you re pretty much guaranteed a freeze-out — even if they acted like your friends for a little while.
But this post is mainly about celebrities and their almighty hold over the weekend. Why else would about 100 media members slog through the nasty weather to Michigan State Fairgrounds Field House on Saturday to watch people like Ludacris, Dylan McDermott and Jessica Alba race each other in go karts? Oh, right— for charity. However, I have no idea what the Cadillac Grand Prix go-kart race is even supporting for a charity. Maybe it s for homeless people? Or AIDS? I hoped it was an elaborate intervention set up for Pat O Brien, who they actually let race in the go-karts. In person, the man looks like a walking sexual harassment suit. He has that creepy uncle disposition nailed. And you can t not look at him without thinking of that horrifying cell phone message playing in a loop throughout your head.
Overall, the most interesting aspect of the celebrity go kart race was the media hierarchy in its absolute glory. There were two separate sections for media. On one side, in the VIP area, were the important ones — E! Entertainment Tonight, Extra!. Then there was the middle section, where I was, with outfits like Entertainment Tonight Canada, local Detroit Fox affiliates, Univision, Token Black network, etc. This was the Scrub Media center. While the VIP media were actually able to interact with the celebrities as soon as they came out of the tunnel, scrub media was set in the middle of the track behind bails of hay and a metal crowd gate. We were allowed to interview the celebrities as they walked passed us, just like any other red carpet event. And I was definitely the biggest scrub in Scrub Media. While everybody else had microphones, giant cameras with overhead lights and semi-attractive correspondents asking probing questions like "How do you like Detroit?" " What does this event mean to you?" and, my personal favorite, "Do you like riding in go-karts?" I stood between them with a refurbished JVC handheld video camera and JoJo, the salami football.
Read about the rest of the day after the jump, and enjoy this video.
G/O Media may get a commission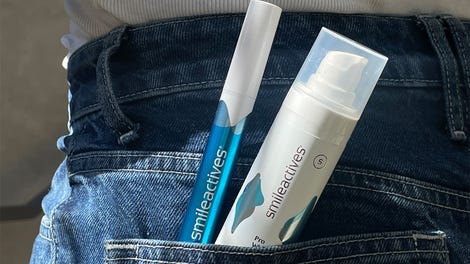 58% off
Whitening Powerhouse Pen & Gel Duo
It was amazing how serious Pat O Brien was taking this event. Before his race, he gave some of his co-racers the sideways handshake-one-armed-chest-bump-hug-combo that you see NBA players do right before tip-off. Actually, "Entourage" s Adrian Grenier spun his way out of the O Brien handshake. Brilliant, career-saving move by Grenier, in my opinion.
There were there different races with three different sets of celebrities; I d list all of them, but you know, check out Pete McEntegart s blog for all the rundowns of it. He was there. He even "reported" on it. I was more interested in trying to get as many photos/film footage of JoJo enjoying the race. These are my priorities.
Actually, here's a sports angle. Two football players were involved in the race: Kansas City Chiefs mammoth tight end Tony Gonzalez and New England Patriots defensive tackle Richard Seymour. They were both struggling to fit into their respective cars. And then there was Alba. Even though I d been promised a salami football toss with her just two short days ago, it was apparent that I wasn t getting anywhere near anybody on this day. (The Jimmy Kimmel green room hi-jinx pretty much put the kabosh on any one-on-one camera time with her or other "selected" celebrities, so I was told.) Once Alba came out, it was easy to see that most of the people there were angling for her; she was, I guess, the biggest star. The amazing thing was, she wasn t as stunning in person as I d imagined. In fact, she looked disappointingly normal. Still hot, obviously, but not the type of woman you bump into walls, or , in this case, bails of hay over.
But "My Name Is Earl" s Jamie Pressley? Well, holy salami footballs. Pressley was also suffering from some sort of throat malfunction which made her voice much raspier and shot her stock up six more points. She was the flag girl for two of the races. I watched her most of those two races. Interestingly enough, the other flag person for the race was Heisman winner Reggie Bush. I yelled "Go Texans!" to him while he was on stage, but he ignored me. He seemed very comfortable just to wave a flag. And then when the race started he waved the flag, spun around and attempted to lateral the flag away back to Jamie Pressley. It failed and killed all the momentum for the next race.
Sadly, the only acknowledgement of the salami came from Tony Gonzalez, whom I asked what he thought about the football salami right in the middle of the Scrub Media melee. He seemed a little confused by the question, as did the rest of Scrub Media. Thankfully, I have video of this — and it s well lit. Progress.