More details have emerged about the murder of a Dodgers fan following Wednesday's Dodgers-Giants game in San Francisco, and a 21-year-old has been arrested and booked, with more subjects being sought.
Jonathan Denver, a 24-year-old from Fort Bragg, Calif., was stabbed to death around 11:30 local time on Third and Harrison, a short walk from AT&T Park. The son of a Dodgers security guard, Denver had attended the game with his brother, father, father's girlfriend, and one other person. The group left the game in the eighth inning, police said, and went to a nearby bar.
When they left the bar they encountered a group including Michael Montgomery, of Lodi, Calif. That group wasn't at the baseball game, police said. They were in the area to hit the clubs, and one of the suspects was wearing a Giants cap. Denver was in Dodgers gear, and the two groups exchanged words, and the insults "deteriorated into a fight." The fight broke up, but the groups ran into each other again soon after and began fighting again. That's when Denver was stabbed, police believe by Montgomery.
Montgomery's father told the Chronicle that the stabbing was self-defense.
"Someone said 'S.F. sucks,' or whatever, and the kid with the Giants hat said something to the effect that 'No, they're the stuff,' or whatever, and then the altercation really broke out," he said.
"Someone swung a chair - it was the kid that got stabbed - and hit my son in the head. My son defended himself," said Martin Montgomery.
G/O Media may get a commission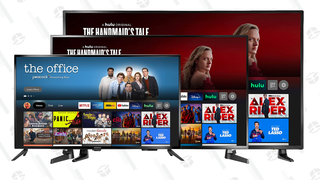 Up to 44% off
Prime Early Access - Insignia Fire TVs
Montgomery was arrested and booked into San Francisco County Jail on suspicion of homicide. He's expected to be charged as early as today, and police are searching for two more suspects.
Before last night's game, the teams held a moment of silence in honor of Denver. Giants manager Bruce Bochy said he's tired of this rivalry resulting in violence.
"It just breaks your heart that a young man lost his life. I don't get it...I don't know what else can be done except send the message out to let the two teams compete, battle it out on the field, be fans."