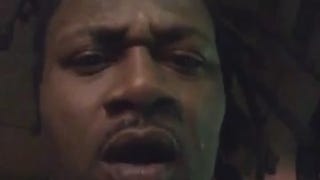 Pacman Jones acquitted: A judge in Hamilton County, Ohio, found the Bengals cornerback not guilty of misdemeanor assault. Jones had been accused of hitting a woman outside a Cincinnati bar back in June. The judge determined Jones had reacted after the woman came at him with a beer bottle. [PFT]
The Pack-Man, as I will always know him, signed a one-year deal with the Winnipeg Blue Bombers of the CFL. I wonder if NAFTA covers importation of strip club labor. [Canadian Press]
It really shouldn't have taken this long for this to be made. But I think we're all glad it was.
We compared the Las Vegas Journal Review's massive feature on the Minxx strip club incident to the Warren Report, but now we finally have the Zapruder Film. Video (that's probably not safe work) of Adam "Pacman" Jones making it rain.
The Las Vegas Review-Journal has launched a massive three-part investigation into the strip club incident that cost Adam Jones a year of football and another man his ability to walk. Oh, the things we have seen ....
ESPN the Mag's extremely productive blogger, Lil' Wayne — the Bob Dylan of our generation — went off in his usual Weezy fashion this week about all things sports related. One Lil' Wayne opinion of note is the rapper's stance on Cowboys' trouble-making defensive back Pacman Jones. Always unpredictable, Wayne says that…