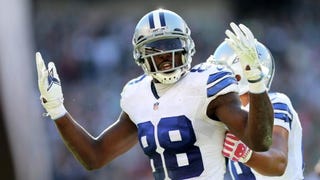 If you don't know already, nfl.com released the audio of Dez Byant's Sunday "rant" during a last-minute loss to the Detroit Lions. But I'm not sure what to call it, since the closest Bryant ever came to ranting was him telling Tony Romo that the Cowboys were "the best in the NFL" before going over routes and coverage.…
The Lions may have had more than 500 total yards, but Matthew Stafford couldn't connect to Kris Durham on fourth down very late in the fourth quarter. "That's the story of the game," Brian Billick said. Ballgame. The Lions "are gonna come away with the 27-24 loss to the Dallas Cowboys," he said. Except they very much…
Tony Siragusa's book entertained us, even though he lied in the course of promoting it. But he consistently fails to entertain us on NFL telecasts. He also consistently fails to inform us, about football or, for that matter, anything else. This sweater was the high point of his 2012. Kenny Albert and Daryl Johnston…
Up until a few weeks before this 1977 appearance on The Match Game, awesomely-jacketed Brian Billick "was playing professional football." The coaches didn't think he was "quite the caliber" that a professional football player should be, though, which is why he still haunts us from the broadcast booth.
It was just a slip of the tongue, but Billick knew what he said: the awkward pause, then the repetition of the statement, emphasizing the success St. Louis had been having with the no-huddle offense. A natural mistake. Sex is very much like the no-huddle offense. Furious, improvisational, and usually completed in…
The Ravens have fired Brian Billick. You hate to see bad things happen to such nice people over the holidays. [Inside Charm City]
By the way, athletes are always being hammered for having "contract years," in which they play harder when they know they're going to be a free agent. Shouldn't Brian Billick have to give back part of the contract extension he got last year? That team's offense has never, ever gotten better, and now the defense is…
AJ Daulerio's Cultural Oddsmaker runs every Friday. Email him to let him know what you think.