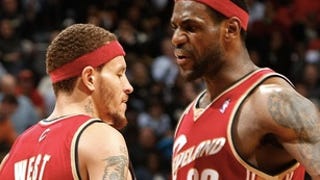 Dan Gilbert has already purchased several thousand of these. You should, too! [KissMyAssLeBron]
On his show, useless ESPN talker Colin Cowherd has dared mention the Great Unmentionable Thing: the Delonte West-Gloria James rumor that was all the rage a few weeks ago. Oh, and he has "sources."
Hall-of-Famer Calvin Murphy appeared on ESPN Radio in Houston today and as all basketball conversations must do, the topic turned to the rumors about Delonte West's dalliance with LeBron James' mom. Murphy's response: "It ain't no rumor."
Remember all those absurd rumors about LeBron's mother Gloria and oft-benched teammate Delonte West knockin' boots? Well, I called the Cavs and left a fairly detailed message, asking for comment. And the Cavs called back.