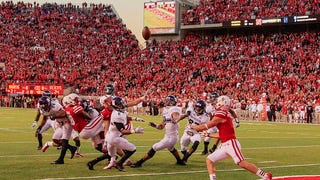 The weekend, as I watched the absurd denouement of the Northwestern-Michigan game, something struck me as familiar — beyond the now-routine bumblefuckery that inspires the Wildcats to turn fourth-quarter leads into triple-overtime losses. No, it wasn't simply that Michigan drove in the dregs of game clock to kick the…
Sure, it's not a game-winning touchdown, but it's hard not to think about Flutie when you watch this. With time expiring in the half, Jameis Winston scrambled away from BC defenders and launched a desperation jump ball from right around the 40-yard line into the endzone for a touchdown to Kenny Shaw. Florida State…
Every morning, the fine folks at Sports Radio Interviews sift through the a.m. drive-time chatter to bring you the best interviews with coaches, players, and personalities across the sports landscape. Today: Alexa Flutie found the fifth time's a charm.
We'd like to thank Boston.com for this staggeringly brilliant photo of Doug Flutie, bringing some goddamn RAWK.
He made it official earlier today at a press conference in waterlogged Foxborough: that scrappy, lovable Doug Flutie has finally retired, at the age of 43. As disappointed as we are to see Flutie retire — we always kind of figured he'd play until he was 60 — we are relieved as well; Flutie seems like the type of guy…
In Week 17, Patriots backup QB Doug Flutie converted a dropkick, the first in the NFL since 1948. The Pro Football Hall of Fame thought it a good idea to display the football, but the Patriots didn't have it.
One of our favorite Doug Flutie stories was when then-Dolphins coach Jimmy Johnson, trying to motivate his team for an upcoming game against the Bills, destroyed a box of Flutie Flakes in front of his team. When Flutie heard about the incident, his face fell. "That cereal is to benefit autism research," said Flutie,…