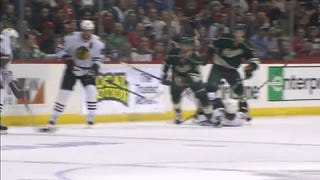 Blackhawks defenseman Duncan Keith was given a match penalty—and therefore automatically ejected—after hitting Wild forward Charlie Coyle in the face with his stick.
Blackhawks defenseman Duncan Keith underwent surgery today to repair a torn meniscus in his right knee. He's expected to be out four to six weeks. It's early, but Chicago is scuffling at 3-3 and already thin at defense.
I was pulling hard for Chicago last night, not because I want them to win this series or because I want Anaheim to lose, but because I wanted to see the Blackhawks play the Ducks one more time. Chicago's hard-fought 5-2 win, which required holding off yet another attempted Ducks comeback, means we get a Game 7, which…
Blues-Blackhawks shifts to Chicago tonight, with St. Louis up 2-0, but things are already getting desperate. Brent Seabrook was suspended three games for a dirty hit on Blues captain David Backes on Saturday, and now audio has emerged of that post-fight scrum appearing to capture Chicago's Duncan Keith taunting a…
Prior to last night's Game 6 getting out of hand, penalty-boxed Blackhawks defenseman Duncan Keith was given the Jack Johnson treatment by Vancouver's most photogenic fans. Here's hoping they're roadtripping to San Jose right now. Photo via 30fps, H/T Tim.