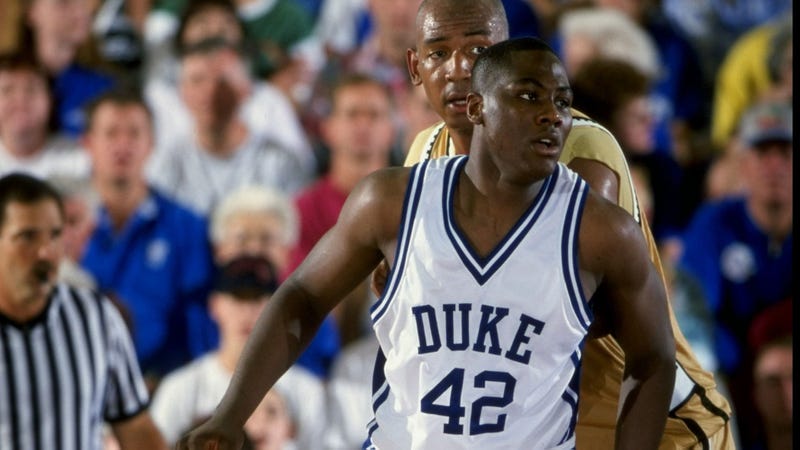 Today is a nice day for Duke fans. The Deadspin staff is not unmoved by this, so we thought we might share one of our favorite memories involving a Duke player.
Yesterday, we asked you to join us in a discussion on what NBA offseason move has been the saddest. At the time, Rashard Lewis being traded for Emeka Okafor and Trevor Ariza held the top spot in the Sadness Rankings, but that was quickly surpassed by the Knicks signing Jason Kidd.
Wednesday was Steve Nash's charity soccer game in Manhttan, and it provided a chance for both Salomon Kalou and Elton Brand to show off their skills. Kalou, most recently with Chelsea, took advantage of the opportunity. Brand just whiffed completely. [via The700Level]
This Sixer fan, also swept up in Elton Brand fever, has no time to wait for local sporting goods outlet stores to get the newest prized jersey in stock, obviously.
Boy, that escalated quickly. Wasn't it just last week when the sports pundits and the soundbite intelligentsia were all speculating that former Los Angeles Clipper, and free agent whale, Elton Brand, would "probably" ignore the lavish offer sheet from the Golden State Warriors because "he loves L.A." so much and he's…
Being stuck in Clipper purgatory is painful, but that's got nothin' on a ruptured Achilles' tendon. Elton Brand suffered the devastating injury during his off-season workout at the Sports Club South Bay. Once the league's most underrated star undergoes surgery he'll face several months of recovery and rehab before he…