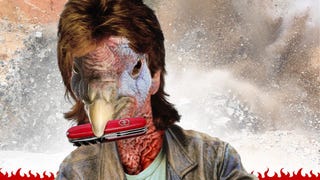 Hey, whoa, Thanksgiving is here! And although you likely will spend it huddled over a vending-machine candy bar in a snowed-in airport terminal surrounded by wild-eyed and feral-looking strangers, that shouldn't stop you from fantasizing about the delicious non-candy foods you'd be eating if our nation's Eastern…
Look, anyone could forget about Labor Day. Right? This is what you tell yourself, rocketing homeward from the empty workplace it took you many long minutes to recognize is closed today and why—Oh god, is everybody coming over for a cookout? Did I tell them I'd host Labor Day? Oh god did I promise meat.
Hey, it's Fourth of July weekend! Why it seems like only yesterday Paul Revere rowed his boat across the Independence River and discovered America or whatever—but it's been 700 years! Crazy. Spare a moment today to doff your mirrored wraparound gun-range goggles in respect for ol' Paul. Paul and the other guys.
So it's Memorial Day, a day designated by the federal government for inching glacially northward on I-95 with ten trillion other weekend beachgoers, cursing the day this humid blue turd congealed out of space-garbage in the orbit of a giant ignited fart, secretly desperate to return to the climate-controlled privacy…
Hey whoa Thanksgiving is here! This means you will have to provide some victuals for some people, or else they will finally have the excuse for disowning/defriending/excommunicating you that they have always secretly wanted. Below you'll find all the Thanksgiving-relevant Foodspin action you'll need in order to…
Here's your handy-dandy collection of all the Foodspins you'll need in order to put together a cookout good enough to stave off total abandonment by all of your loved ones for at least another 32 hours or so. We'll update this occasionally with new cookout-appropriate stuff. In the meantime, get cookin'. Readin'. …