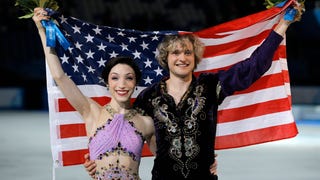 After four years of buildup, and at least a week of talk about possibly corrupt judges, U.S. ice dancing stars Meryl Davis and Charlie White–America's only real hope for a figure skating gold in Sochi–delivered the goods on Monday, beating Canadian rivals Tessa Virtue and Scott Moir by a healthy spread of 4.53 points.…
Before you get the impression that an entire nation is drowning in sour grapes, know that Rosie DiManno is Canada's worst columnist (non Sue-Ann Levy division). But even for her, this is something:
The figure skating competition is already underway in Sochi, and I have to break the bad news to you: For the first time in years, no American man or woman is expected to seriously vie for an individual gold medal. Which doesn't mean this won't still be the most fascinating, nerve-wracking competition in the games, or…
Charlie White is just your typical kid from Michigan. By the time he was a teenager, he realized that ice hockey just wasn't for him — even though he had led his club team, the Detroit Wolverines, to a state title. No, he wanted to be much more creative on the ice. He wanted to dance.