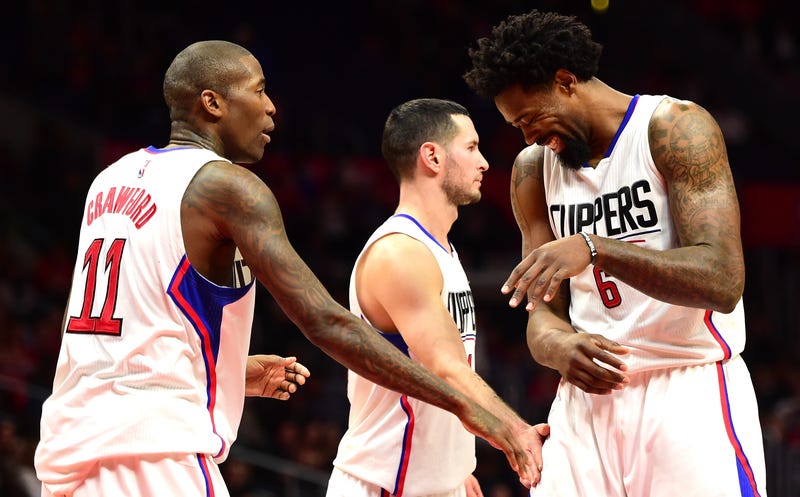 We learned last night that the Clippers have a bit: the last player back to the locker room after the final buzzer has to dance for the rest of the team. How did we learn it? The game's two heroes, forced to remain on the court for interviews, took off sprinting first chance they could.
Being in a 1-1 series tie with the San Antonio Spurs isn't the worst position for the Los Angeles Clippers to find themselves in. The team has shown plenty of positive signs throughout the first two games of this series—Blake Griffin is dunking on fools! Chris Paul is in Playoff Mode! DeAndre Jordan actually made…
Jamal Crawford had a Jamal Crawford game tonight, dropping 21 of his 23 points in the fourth quarter on steady diet of three-pointers as he led the Clippers from eight points down to a 102-98 win over the Nuggets. But his most amazing play wasn't a basket, but this crazy save and assist to Matt Barnes.
Jamal Crawford got himself into a duel with Kevin Durant yesterday, answering KD's 42 points with an incredibly efficient 36 of his own on 13-20 shooting. But Crawford didn't just flex his genius on the court, he also proved that his memory is just as sharp as his crossover.
Before Chris Paul sent home his miraculous, game-winning bank shot, the best thing about last night's Grizzlies-Clippers game was Jamal Crawford repeatedly putting the entire Grizzlies defense on ice skates.
It's always fun when a basketball team's bench takes on an identity of its own. Getting to watch a group of guys who are not quite good enough to be starters gel into a cohesive unit of their own adds another layer of excitement to the game, and so it's no surprise people often want to give cool nicknames to such…
We have the Olympics this year, and a CBA, so summer league highlights will not be your only source of basketball highlights through Christmas. Still, we can enjoy this one, in which Jamal Crawford holds the ball for a last-second shot, then calmly leaves the court. (Note: in the Jamal Crawford Summer Pro Am League,…