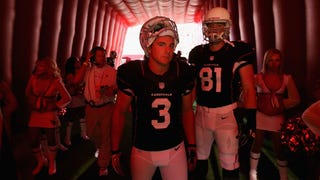 Every morning, the fine folks at Sports Radio Interviews sift through the a.m. drive-time chatter to bring you the best interviews with coaches, players, and personalities across the sports landscape. Today: [Whistling]
So this is a reminder to all readers and commenters that the #tips is a place for you to submit story ideas and suggestions for us to look over. Please use it at your leisure.
"I have never said I believed Obama to be a socialist Muslim. It does bother me he is unwilling to defend America's greatness." [JayFeely]
What's new with Jay Feely? Well, he eagled the par-5 eighth at Liberty National on Monday, and he's all fired up. Oh, and later that day, he went on Hannity and told the nation he's scared of President Obama.
• It's funny, because if you remember when Guenther Cunningham actually coached the Chiefs, you'd understand that here, he's just giving his unique signal to go for two.
• It's like the Chargers suddenly remembered that Marty Schottenheimer's their coach.
• Anybody see the new ESPN magazine? (Anybody? Anybody?) In…