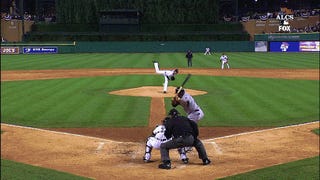 José Iglesias has made a number of spectacular plays this season, but his race from a right-of-second-base shift to snatch a popup from David Ortiz helped make what has been a bad night for the Tigers slightly less terrible.
Remember when the Detroit Tigers edged their way into the Jake Peavy trade by sending Brayan Villarreal to the Red Sox in exchange for shortstop Jose Iglesias? This is why they did that:
Late last night, we finally got some TRADE FUCKING DEADLINE action thanks to a three-team deal struck by the Red Sox, White Sox, and Tigers. Boston comes away from the deal with the most meaningful upgrade, nabbing Jake Peavy in exchange for shortstop Jose Iglesias and a bushel of prospects.