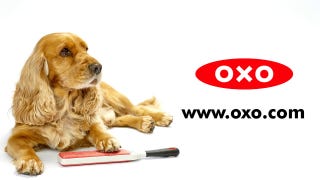 You've probably owned something very similar to these fur and lint brushes from OXO, but theirs is self-cleaning.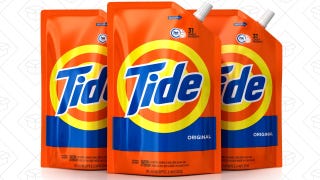 For a limited time, Amazon will sell you three pouches of Tide HE-compatible laundry detergent (totaling 144 ounces or 93 loads) for just $14. These pouches are designed basically as refills for plastic Tide bottles, but as long as that doesn't bother you, this is a fantastic price-per-ounce for any detergent, let…
Years ago, a friend told me that sweeping is the worst possible chore. My God, she was wrong. I took a screencap of her being wrong and would show it to other people, and they would gaze at it and say, "My word, look at that person being wrong." That's how wrong it was. Everyone agrees laundry is objectively the worst…
These dryer balls have an astounding 12,000 Amazon reviews at a 4.6 star average, and are unsurprisingly Amazon's top-selling item in the fabric softener category. Like, good for them, but how does such a boring product get that much attention?

My washing machine broke about a week ago. I am not mad at it: The poor fucker is older, quite a bit older, than this website, and for the past several years has been running pretty much nonstop to accommodate the fact that my two sons basically are very adorable piglets that talk and have occasionally unsteady…
Jolie Kerr is a cleaning expert and advice columnist. She'll be here every week helping to answer your filthiest questions. Are you dirty? Check the Squalor Archive for assistance. Are you still dirty? Email her.
This season, the Nationals have taken up the rather messy celebratory anointing of players with chocolate syrup. The Washington Post put together a explainer that promises "a comprehensive look" at the origins and impact of the ritual dousing of ice cream toppings, as well as instructions for "how you get chocolate…