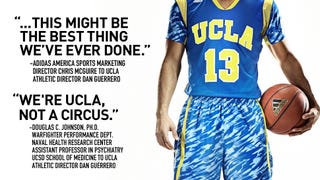 Three weeks ago, Adidas rolled out special basketball uniforms for Cincinnati, Kansas, Baylor, UCLA, Louisville, and Notre Dame, to be worn in the teams' conference tournaments. Each uniform featured Zubaz-like camo shorts, camo shoes, and three of the uniforms—UCLA, Louisville and Baylor—came with sleeves ("designed…
It appears that Adidas is not quite finished ruining basketball uniforms across the nation: today the company unveiled its new "adizero uniform system," which six college teams—Cincinnati, Kansas, Baylor, UCLA, Louisville, and the Notre Dame Doublemints—will wear for conference play in March.
The Golden State Warriors today debuted a new alternate jersey that they're calling "revolutionary," "innovative," and "profound."
The preseason Jets-Bengals game was on in the bar Friday night, and while the endless five-yard outs thrown by the dynamic Jets offense made it feel as if we could have been watching anytime, there was one new glaring difference: the Nike logos on the uniform sleeves. They jumped out all the more because half the…
Oh, gee, the NBA wants to build on its incredible globe-spanning success and goodwill by putting ads on its uniforms, because...that's how they do it in the WNBA. And MLS. And various other unpopular and/or foreign sports leagues, and uh NASCAR, which, really? NASCAR was a long-form automobile commercial to begin with.
Deadspin presents Laundry Basket, an occasional look at the aesthetics and meaning of sports uniforms. Not affiliated with the venerable and comprehensive Uni Watch franchise. Logos via sportslogos.net.