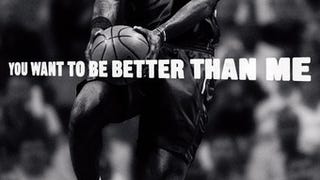 The Swoosh has graciously decided to return the footage it confiscated from two journalists at the LeBron James Skills Academy, now that TMZ and eBaum Nation are a combined $8,000 poorer and the world has moved on. [AP]
Suddenly, there's an epidemic of videos of "The Dunk." Different angle and less underwater-y. Where has this been all month? I wonder how much eBaum had to pay for theirs? [eBaum Nation]
Remember that it was Kobe who alerted Dwyane Wade to the dunk and who encouraged him to "give [LeBron] stuff about this." And now here, via The Baseline, is video of Kobe at his own camp, saying:
The flash, apparently official: Nike is now making the implausible case that the two hapless videographers at the LeBron James Skills Academy had flouted a longstanding, super-inviolate "no videotaping" commandment and therefore had to be frisked.
Ryan Miller, the would-be Zapruder whose video of LeBron getting Tom Chambered was commandeered by a Nike goon, has offered a few more details about the incident. Namely: The dunk was awesome, and Bron-Bron was kind of a prick.
Word out of the LeBron James Skills Academy is that Xavier's Jordan Crawford turned the camp's host into his own personal Fred Weis, the sort of moment for which God created YouTube. Then along came Nike to confiscate the evidence.