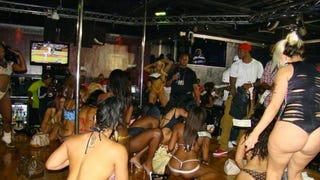 Now's an excellent time to call attention to these photos of Williams (red cap) making it rain (with Ron Artest!) at Perfection Gentlemen's Club. Too bad there aren't women who take their clothes off for money in Houston. [What's Poppin, h/t BSnO]
We compared the Las Vegas Journal Review's massive feature on the Minxx strip club incident to the Warren Report, but now we finally have the Zapruder Film. Video (that's probably not safe work) of Adam "Pacman" Jones making it rain.
The Las Vegas Review-Journal has launched a massive three-part investigation into the strip club incident that cost Adam Jones a year of football and another man his ability to walk. Oh, the things we have seen ....
Clay Travis of Sportsline's SPiN on Sports is really embracing the "Making it Rain" phenomenon ... so much so that he's spread the act to his dad and to the hoes at Home Depot. I think this is exactly what Fat Joe had in mind when he recorded the song.
The first twenty-four hours of the NFL's free agency period have come and gone. There was a flurry of activity last evening ... let's get ourselves caught up.
I hope that one more post doesn't overdo it on the Pacman Jones story, but I did particularly enjoy this report from WSMV in Nashville. One line in particular really does tell you all you need to know. "He shouldn't have made it rain, then." Yes.