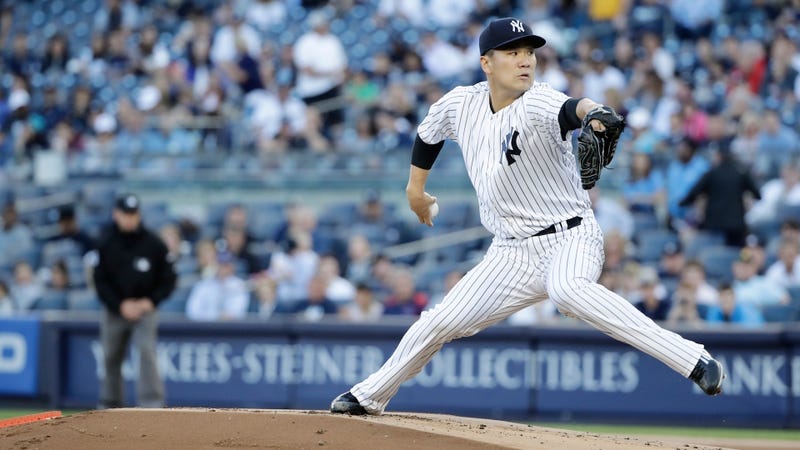 Very little has been going right for Masahiro Tanaka over the past month. Since his gem of a complete game shutout against the Red Sox four weeks ago, he's been giving up more home runs than almost any other starting pitcher in baseball—in his last two starts, he allowed a combined 14 runs on seven dingers and failed…
Tonight's Yankees-Red Sox game was, for once, short—the shortest of my life. That was courtesy of a pitchers' duel between Masahiro Tanaka and Chris Sale, in which both were excellent but in wholly different ways.
The New York Yankees are last in the American League East at 9-17, and tonight they suffered maybe the most bitter defeat of what's been a real dirge of a season. Their offense has been particularly bad, generating the fewest runs in the AL and mustering just the second-lowest OPS in the AL. The team's inability to…
When the Yankees signed Masahiro Tanaka this winter, there wasn't any real question that they were getting an outstanding pitcher, but no one was really expecting what he's done so far. Through 22 innings, Tanaka has struck out 28 batters, good for 11.5 strikeouts per nine innings pitched (SO/9). That's some serious…
In the third start of his major-league career, Masahiro Tanaka struck out 10 Cubs in eight innings. In each of his two previous starts, he pitched seven innings, striking out eight batters against the Blue Jays and 10 batters against the Orioles. That's 28 strikeouts in 22 innings for the 25-year-old Japanese import,…
Prized Japanese starter Masahiro Tanaka will sign with the New York Yankees for seven years and $155 million, reports Ken Rosenthal. The deal has an opt-out clause after four seasons.