North Dakota State continued its incredible streak of beating teams from college football's top division when it downed 13th-ranked Iowa 23-21 thanks to a last-second field goal.
North Dakota State thought it could strong-arm media members and organizations not paying for rights by barring them from, among other things, live tweeting from games or interviewing coaches. Essentially, the school's athletic department hoped it could get away with preventing local bloggers and beat writers from…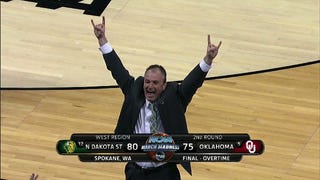 A night of overtimes continued as Lawrence Alexander hit a wild, off-balance three-pointer with twelve seconds remaining in regulation to force overtime against 5 seed Oklahoma and set up his North Dakota State Bison to win 80-75 after the extra period. The battle left NDSU coach Saul Phillips ready to ROCK.
What's the difference between North Dakota and North Dakota State? Fuck if the NCAA knows. North Dakota State won the FCS title in January, but the NCAA accidentally mailed the championship banner to North Dakota, even going so far as to address it to North Dakota's athletic director by name. But get this straight:…
Midwest Region: No. 3 Kansas (25-7) vs. No. 14 North Dakota State (26-6)
When: Friday, 12:30 p.m., EDT
Where: Hubert H. Humphrey Metrodome, Minneapolis, Minnesota

KANSAS JAYHAWKS

1) Robbing the Cradle The big programs in college basketball have been getting younger and younger thanks to things like the NBA's idiotic…