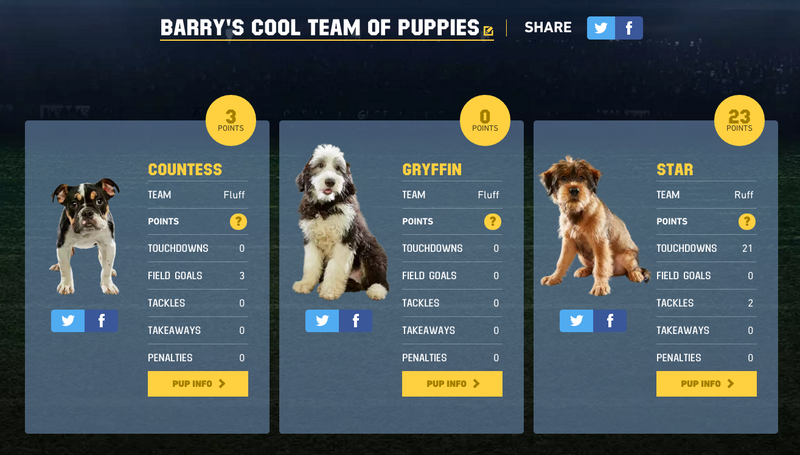 My cool team of puppies turned out to be a team of Star and two total losers. Despite high hopes for my fantasy Puppy Bowl team, Countess scored a measly field goal (I'm not totally sure how a dog does that) and Gryffin didn't even see the field, perhaps being busted during Puppy Bowl Week for soliciting a leg.
What a time to be alive. You can now draft your three-dog side for this Sunday's Puppy Bowl. Choose from all the competitors listed here, and I'm going to kick your ass because my team is the best.
The over/under for the number of households that will tune in to watch the Super Bowl tonight is 113 million. There has never been a larger event in the history of television. What I'm saying here is you don't have to be a fan of football to tune in. People who don't watch this Super Bowl will spend tonight and most…
My Puppy Bowl fantasy team got demolished. I should have known better. Sparky always disappears in big moments, and Ginger is a straight-up thug.
We are only a month out from the sporting spectacle of the year: Puppy Bowl X. (The "X" is for eXtreme puppies. Also, "ten.") This year's edition will have a number of new wrinkles, but the biggest game-changer is the ability to play fantasy puppy football. Everything else on Feb. 2 has just been rendered meaningless.
Here's Animal Planet's Puppy Bowl (which mostly sucked this year, thanks to a Disney tie-in and no beagles) compressed to about a minute. No, there aren't any halftime show highlights featuring kittens. The real Super Bowl halftime will feature plenty of that. [Video from Animal Planet. Music is this.]
OMG THE CUTENESS! A freakin' parrot sang the national anthem! Greatest counter-programming move in history. Puppies!!! [Animal Planet]
The writers strike may have crippled other shows, but the Puppy Bowl remains strong; ratings for Puppy Bowl IV on Sunday were up 35 percent from last year. Just like Super Bowl XLII, some are calling this the best Puppy Bowl ever, although the Bissell Kitty halftime show had too much nipple in my opinion. The huge…
Puppy Bowl III has been going strong for over an hour now... these little guys just don't get tired. Well, one of them did... he decided to just lay down at the 50-yard-line for a while. One of the bigger, meaner dogs with lower self-esteem called an immediate press conference and accused the other dog of getting…
Lest we find ourselves too caught up in the rigmarole of yet another Bowl of Super, we remind you of the true highlight of any Super Bowl Sunday ... The Puppy Bowl!