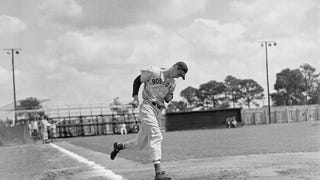 Below you'll find Alex Belth's fun story about the making of Richard Ben Cramer's famous Esquire profile, "What Do You Think of Ted Williams Now?" We shared this over earlier today, but I wanted to draw your attention to one section in particular. It's about Cramer's efforts to restore 1,500 words that had been cut…
Richard Ben Cramer was a journalist who wrote great, shambling, unafraid sentences that weren't so much lively—though they were that—as they were lived-in.
Today, our pal Alex Belth, proprietor of Bronx Banter, is taking the reins. He's selected four stories for your enjoyment.
Every week, I'll excerpt a handful of stories — old and new, sports and otherwise, relevant and merely sublime — that I urge you to read for one reason or another. Send any suggestions to craggs@deadspin.com.