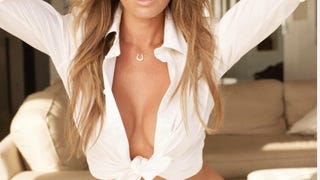 Hello again! I know I keep bugging you to join the Deadspin Facebook page, but, dammit, it's just so full of gorgeous ladies like Alexia Fortunato who are happy to engage in sexual acts with numerous readers she finds semi-attractive.
Since Deadspin has become an outpost for awkward, ridiculous, sexually suggestive college football team posters, I guess it was inevitable that one featuring (alleged) high school players would show up. Yay, NAMBLA.
If you've never had your penis regaled in song, well, you don't know just how inspiring that can be. British singer Tony Henry was belting out the Croatian National Anthem before the recent European Championship 2008 soccer match with England, but botched the lyrics, with hilarious results.