Monken turned the program around after they went from 12-2 to 0-12 in one season. Bummer for Southern Miss.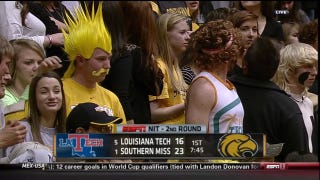 We've examined the difficulties faced by first-year athletic director Jeff Hammond, who inherited a multi-million-dollar budget deficit when he took over at Southern Miss. Complicating matters was the performance of the team, which went 0-12 under new head coach Ellis Johnson. Johnson had been hired under lame-duck AD…
Last month, we took a look at the University of Southern Mississippi football program and its athletic director, Jeff Hammond, who a year ago inherited a coach he never wanted and a multi-million-dollar athletic department deficit he had to fix. Last month, he addressed the former by firing coach Ellis Johnson after…
What's the market price for an easy home win in college football? The Southern Miss Golden Eagles have made a deal to move next season's opener—a long-anticipated matchup against Nebraska in Hattiesburg—to Nebraska instead. In a letter between the schools' athletic directors dated last week, which was viewed by…
The resulting fight in Tempe wasn't on the scale of the one between Xavier and Cincinnati last week, but the punch that sparked it is so brutally dirty it's almost a work of art. After getting a forearm to the jaw from USM's Torye Pelham, ASU's Muscovite center Ruslan Pateev returns the favor with a shot to the back…
Do you think Britt Barefoot really wanted to be a kicker or was he simply forced into it because of his all-too appropriate last name?