Love of Space Jam is the perfect case study in false memory—take a childhood novelty, give yourself a decade of distance, layer on some of the currently rampant '90s nostalgia, and all of a sudden everyone you know swoons over something that was pretty bad. The sum total of praise Space Jam deserves is that its…
This morning LeBron James and Warner Brothers announced a partnership between the studio and James's production company. You would not be remiss in getting excited (or feeling trepidation) about the possibility of an update to Space Jam, staring James and some of his closest NBA friends.
According to Deadline, a sequel to Space Jam is in the planning stages, and it would star LeBron. [Updated]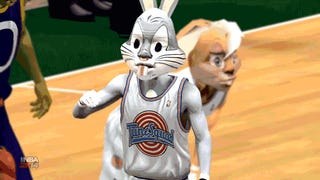 You haven't really seen video game basketball until you've seen this Space Jam-themed NBA 2k14 mod by YouTuber MkEliteWorksX.
What if I told you that the greatest basketball player of all time retired in the middle of his prime, and that this retirement involved a trip to Looney Tune Land, where he would compete in the most important basketball game ever played? This is 30 for 30: The Space Jam Game.
This is Regressing, a numbers-minded column by our clever friends at the Harvard College Sports Analysis Collective. Over the next few days, they'll be applying rigorous statistical analysis to some of the finest basketball movies in the history of cinema (and also Hoosiers). Today: Space Jam by the numbers.