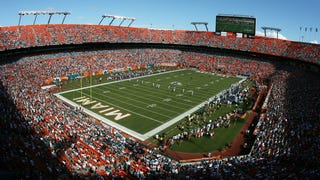 Just nine months after trying—and failing—to get nearly $400 million in taxpayer dollars to pay for renovations to Sun Life Stadium, word comes out of Miami that Dolphins owner Stephen Ross is willing to pay for the majority of the upgrades himself. This should be remembered every time a team tries to hold its city or…
There will be no renovation for Sun Life Stadium, after the Florida legislature declined to vote on a bill that would have cleared the way for nearly $400 million in taxpayer money. But if a stadium upgrade is so important, couldn't the Dolphins just pay for it themselves? "We have no intention of investing more," …
The Dolphins, who own their own stadium, want $400 million worth of upgrades. And they want Miami-Dade County taxes to foot the bill for half. The excuses are familiar—we want to host Super Bowls, we could move to Los Angeles instead—but the battleground is unique. South Florida residents were burned by a sweetheart…
We called this one a couple of months ago, but the Dolphins and owner Stephen Ross made it official today—they want to make $400 million worth of renovations to Sun Life Stadium, and they want state and local governments to pay for some, possibly most of it.
Miami has another outdated stadium that needs hundreds of millions of dollars worth of renovations. A politician instrumental in getting the Marlins taxpayer funding says the renovations are necessary. The Dolphins don't have the cash or the desire to pay for it. Guess who's left? Miami-Dade County residents, whose…
The sucker punch that dropped a Dolphins fan in the parking lot after Sunday's game vs. the Eagles is so brutal that the meathead who threw it should do some time. The sound of head hitting parking lot is chilling. The louder sound of the initial contact may be worse. Hearkens back to the near-death Bryan Stow case.…
In the fifth inning of yesterday's Cubs/Marlins game, some dude decided to leave his clothes in the stands when he ran onto the field. Hey Chicago, whatdaya say, the Cubs ended up winning anyway.