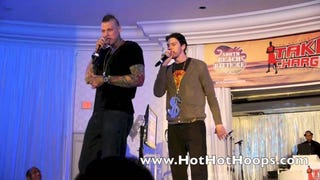 Hot Hot Hoops took in Shane Battier's annual charity event in Miami Beach last night, and, I don't know, I guess some money was raised for a good cause or whatever. That's a distant second to the world-shattering levels of whiteness when Mike Miller and Chris "Birdman" Andersen cover Vanilla Ice's greatest hit.
This is a special moment for the white people of Minnesota. Vanilla Ice, fresh off his eighth studio album, will perform at halftime of the Wolves/Celtics game this Friday. I don't know his set list, but I'm sure he'll play all your favorite. [NBA.com]
Last night, at the Raptors-Nets game, Vanilla Ice inexplicably appeared as the halftime entertainment. Resident Canadian high-end potato salesman, Gourmet Spud, was in attendance. He filed this report.