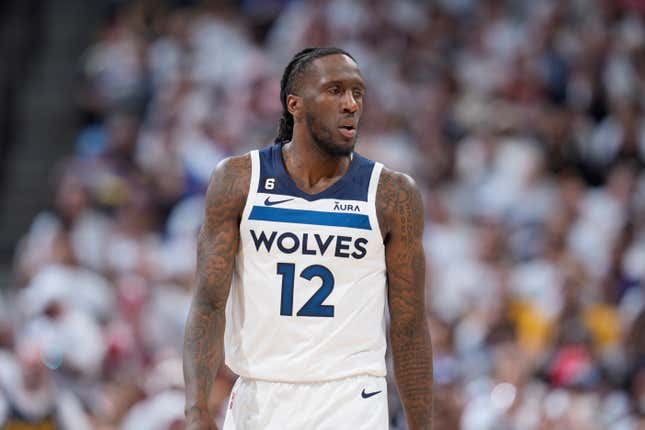 Adrian Wojnarowski's sources inside front offices might be a little too eager to share with him.
Jordan Poole ruins Golden State Warriors comeback and… we're being too hard on him | Keep it a Buck(et)
Even Shams Charania is playing from behind Woj a majority of the time. On Wednesday, Wojnarowski hit send on a WojSmokeBomb explaining the Minnesota Timberwolves' intention to decline Taurean Prince's team option for the 2023-24 season.
The Timberwolves apparently didn't inform Prince of their decision not to pay him $7.4 million before someone opted to text Woj. Woj isn't the problem here. His job is to beat his competitors to the news, but not the player himself. Prince was low on the Timberwolves' totem pole, averaging only 9.1 points and 2.4 rebounds per game as a bit player in Minnesota's rotation.
It's a hard-knock league. Malcolm Brogdon was traded by the Celtics last week, only to wind up as their likely starting point guard for next season after the trade was reneged. However, on several occasions, the apathy front offices have shown for keeping players in the loop on their employment plans this offseason has been galling to watch. Every player and their agent is on speed dial for front office execs. NBA trades and contract decisions don't get negotiated over lunch. Even at the trade deadline, players, and their agents are kept up-to-date on decisions.
However, a week ago, Chris Paul discovered he was being traded by the Phoenix Suns to the Washington Wizards from his son. Granted he was only in Washington for a layover, until Golden State scooped him up, it demonstrates the ease with which teams dispose of players when they've extracted everything they can from them. In the long run, Prince (and Paul)will take it in stride, but it shouldn't be that hard to exhibit basic levels of decency to players who put their bodies on the line through training camp, the regular season, and playoffs.
The class organizations have figured this out. One of the things that bothered me about the Paul trade is that it was his arrival that launched them into the stratosphere. Paul was the high tide that lifted Phoenix's boat. It was noteworthy that Paul appeared to pin the trade on Isiah Thomas after he implied that "Mat and Isiah wanted to go in a different direction," rather than on the Suns' president of basketball operations, James Jones.
From all accounts, Thomas appears to be an unofficial liaison between the front office, and new owner Mat Ishbia. Thomas has a history of leaving disgruntled assistants, players, and sexual harassment lawsuits in his wake so the idea that he led a push to trade the catalyst for their surge into contention without informing him first.
This is just the latest bad look for the Timberwolves organization over the last year. Minnesota's esteemed team president Tim Connelly has to get his organization in check. He's got Karl-Anthony Towns acting like he deserves a parade for reaching the first round of the NBA Playoffs and his front office shoveling news to Woj before the player whose contract they're essentially terminating.
Here's the laughable part in regards to Prince though. According to The Athletic's Jon Krawczynski, the Timberwolves are open to the idea of signing Prince back in free agency. Based on his response, he probably is less receptive to the idea today than he was Wednesday morning.