One thing we know to be true about Taylor Swift is that she is frequently photographed with other people. The Instagram personality, who is also a musician, refers to the people in these photographs her "friends." She has many of them! More friends than you and me, and everyone we know combined. She has friends who go to her birthday parties, slide down her 4th of July party waterslide, and appear on stage with her during her sold-out tour, in no way acting under the direction of many publicists, or the opportunity to further their own career by proximity. She has a metaphorical army of them! (At least two of whom are not white, and still definitely among her intimate group of close friends.) To have so many real, genuine friends must be nice.
Charli XCX is one of these friends. She has performed this friendship not only by singing a cover of "Shake It Off" on a radio show once, but by then being invited to travel on Swift's private plane, taking tampons from the plane's bathroom, and later appearing with her onstage during the Toronto stop of Taylor's last celeb-packed tour. (The duo performed Charli's "Boom Clap.") It's assumed that Charli performed alongside her peer that night out friendship, and not for a fee. (Note: If you work with Taylor Swift on a project, or appear onstage with her, you will appear on both her Instagram and Twitter at least one [1] time, and it has been shown that Swift's "social lift" will immensely boost the follower/engagement of any one of the friends she mentions therein.)
According to a new interview of Charli XCX in the Fader, Taylor Swift did later go out of her way to thank Charli for appearing and performing at her show ... by sending her a surprise.
[I]t was a bunch of Taylor Swift merch. Charli had recently appeared onstage at one of Taylor's concerts, where they duetted to "Boom Clap," and the surprise was a thank you sent by the artist herself, a pop giant reaching out to someone figuring out how she might be one.
What lunacy is this?! Imagine doing a favor for a friend and receiving a box of promo shit that they had lying around in their garage in thanks. Imagine that all that shit was emblazoned with the face of the person who is grateful to you (for your friendship), and that it was both free of charge and required little effort on their part. It's insane! It's sociopathic! "As a token of our friendship, and in thanks for your kindness to me, here is my image for you wear on your being, and plaster upon your walls."

Previously, as a token of friendship, Taylor Swift has given Carly Simon a discount on her tour bus. [via Time]
Simon has recently purchased Swift's old tour bus, since she doesn't care much for flying. She says Swift gave her a discount ("the price you'd charge your sister") and even left all her linens onboard.
G/O Media may get a commission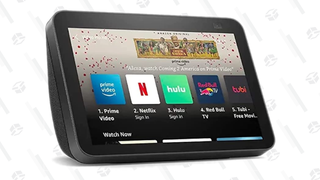 She has sent Lorde flowers. [via Vogue Australia]
"My friendship group is one of my favourite things about my life right now. Our friends really have each others' back. It's the first time in my life that I've had anything strong like that in the friendship department," Taylor revealed.

"A lot of the time I'll reach out to people to tell them they're great and a friendship will come out of them. Ella and I (Lorde) met on our own because her album came out and I sent her flowers and told her it was great and now she's one of my best friends."
She was rumored to have given an attractive homeless fan, Brandon, $4,000 in rent after his dad kicked him out of his house. And in 2014, in a move that was not at all a PR stunt, she enacted "Swiftmas," a social media initiative that ended with large boxes of curated gifts appearing on the doorsteps of random fans.

All of the aforementioned gifts are better than the one she sent to Charli XCX: the gift of a pile of Taylor Swift merch. This is not a good gift to give to a friend.