As the NFL Draft approaches, many team fanbases will attempt complex logical gymnastics to talk themselves into using a first-round pick on Florida quarterback Tim Tebow. Today: The Steelers try to solve their current quarterback's character issues.
Future Tebow Employer: Pittsburgh Steelers
Justifiers: Nick Signorelli, Bleacher Report; Jeremy Fowler, Orlando Sentinel
Summary of the Defense: Despite two Super Bowl victories in six seasons, Ben Roethlisberger's poor off-the-field decision making is a blight on an otherwise proud and morally upright franchise. So in a complex dance of pre-draft obfuscation, the Steelers should immediately trade Roethisberger for draft picks, dupe the entire league into believing they want Jimmy Claussen, convince at least two teams to trade ahead of the Steelers and waste their picks on a QB (freeing up the best DB prospect for them, naturally), publicly broadcast more lies and misdirection about Colt McCoy, then scoop up Tebow with the 14th overall pick. And also get C.J. Spiller somehow.
Evidence:
The first thing the Steelers need to do is to go into damage control mode. They have to put on the shining face that they believe that Roethlisberger has done nothing, and that this is simply another case of a gold-digger trying to dig her way into the pockets of the ultra-rich Big Ben.

The next thing they need to do is to make a call to the Seattle Seahawks. With the aging Matt Hasselbeck, Pete Carroll could trade his first two first round picks for Big Ben and immediately upgrade his team.
[...]

And make no mistake about it, with Tim Tebow, we will NEVER be hearing of him out drinking and partying, and things along those lines. Tebow is a proud Christian, and has even abstained from sex until this point in his life, because he believes in waiting for his wife.

Tebow is the kind of face that the Rooneys have always dreamed of having for their franchise, and, if they play their cards right, they may just end up getting him.
Or alternatively, keep Roethlisberger and draft Tebow anyway, so that he can become a positive moral influence on the troubled veteran:
Why not draft an image-conscious quarterback such as Tim Tebow who, if anything else, could provide guidance to the two-time Super Bowl winner. It also shows the organization has not taken the Roethlisberger's situation lightly. ...

Tebow is similar to Roethlisberger in many ways. Roethlisberger has the much better arm, but they both aren't considered textbook quarterbacks. They just get the job done. The two could be good for each other.
G/O Media may get a commission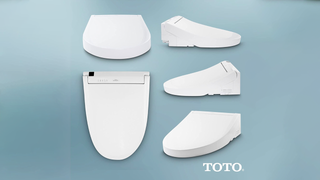 44% off
Toto Washlet Electronic Bidet Toilet Seat
With the 18th Pick, the Pittsburgh Steelers Select...Tim Tebow? [Bleacher Report]
Tim Tebow to the Pittsburgh Steelers? They could use image-conscious QB after Ben Roethlisberger troubles [Orlando Sentinel, via]