From: John Koblin
To: Jack Dickey
Ten years ago, the Jets were a sinking ship. That's how Curtis Martin described them. After a Week 4 loss to Jacksonville, the Jets fell to 1-3 and then-coach Herman Edwards said the team was staring at a 1-15 season. Vinny Testaverde, the aging quarterback, wasn't helping things. But then Testaverde injured his shoulder against Jacksonville, and in came Chad Pennington, who'd been riding the bench for two years after being drafted. With Pennington under center, the Jets went 8-4 the rest of the way and made it to the divisional round of the playoffs. For the Jets, that qualifies as a historic season.
Now the Jets are a sinking ship. They're 4-7, and in those seven losses, the average margin of defeat is 18.9 points. That's the fourth-worst margin in team history, the worst since Lou Holtz and Joe Walton were coaching. Yes, Jets fans keep track of margin of defeat.
No one is going to salvage a playoff appearance out of this foundering season. But Jets fans, looking for any floating object to grab onto, are casting their eyes to the bench—and not to Tim Tebow. This week, the Bergen Record put the muttered hopes of the Jets fans into print: "Greg McElroy deserves a chance."
G/O Media may get a commission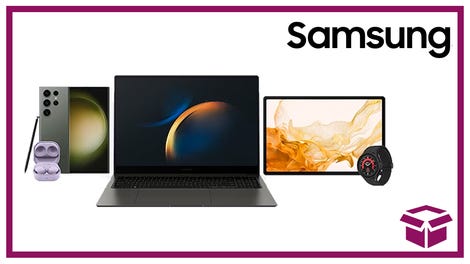 24 hour deals
Discover Samsung - Daily Deal
For the second year in a row, Slate and Deadspin are teaming up for a season-long NFL roundtable. Check back here each week as a rotating cast of football watchers discusses the weekend's key plays, coaching decisions, and traumatic brain injuries. And click here to play the latest episode of Slate's sports podcast Hang Up and Listen.
There he is: the Jets' seventh-round pick in 2011, veteran of the semipro SEC, winner of a college national championship. Yes, the Record allowed that his "[a]rm strength is a question mark," and that his "abilities as an NFL quarterback are unknown." But the abilities of the other Jets signal-callers are all too known. Since Thanksgiving, the new minimum performance standard for a Jets quarterback has been "Go out there and don't fumble away the ball for a defensive touchdown after running headfirst into your own lineman's keister."
The "go out there" part should rule out Tebow, who's been nursing two broken ribs. For some reason, though, coach Rex Ryan kept McElroy on the inactive list for Sanchez's Turkey Day. But perhaps there's hope: Ed Werder and The New York Post are reporting that Tebow will be inactive this Sunday and McElroy will dress up in a uniform for the first time this year (Ryan said today he's still thinking about it).
The quarterback-doomsday scenario going into the season was that Tebow zealotry would overrun the franchise and Rex Ryan would have no choice but to turn things over to the strong-legged, erratic-armed folk hero. That didn't happen. Ryan apparently has no faith in Tebow, which started to become clear early on and finally seems as good as fact by now. Nor do the local fans seem to believe in Tebow, the way people were supposed to. Maybe that one guy yelling "Tebow, save us!" as the crowd heaped abuse on the Jets at halftime was sincere, but the whole scene had a Luke 23:39 quality to it.
No, Jets fans dream of another weak-armed redeemer altogether: the long-lost Pennington, martyred by a Favre-horny front office and by a right shoulder that wouldn't stay in its socket. When they hear "weak arm" and "game manager" and "unimpressive in practice," their memory turns to old No. 10 and the glory to which he precision-passed the team in some doubly counterfactual parallel universe, one in which the Jets stayed with Pennington and Pennington's limbs stayed securely attached to his body.
But Ryan keeps clinging to Sanchez, the Jets' 2009 first-round pick, who is by now the anti-Pennington. Must we even turn to the stats? Here are three of them: He's 30th in the league in quarterback rating, 33rd in completion percentage, and has committed 20 turnovers—10 picks and 10 fumbles.
Why are the Jets so hellbent on sticking with a failed quarterback, rather than trying an at-least-not-yet-failed one? Maybe it's politics. Yesterday, the Jets offensive line coach Dave DeGuglielmo all but admitted that he's been forced into platooning the far inferior Vlad Ducasse with the much better Matt Slauson at left guard because of a decision from "high above me." This set off speculation that Jets GM Mike Tannenbaum is trying to protect his disastrous 2010 second-round pick in Ducasse and prove to everyone that he's not all that bad since he's getting playing time.
Is the commitment to Sanchez and Tebow more of the same? Is owner Woody Johnson personally invested in the Tebow acquisition, so the Jets have to keep up the charade that he's really a backup quarterback? Is Sanchez still the starter because, as with Ducasse, no one wants to admit he blew a draft pick?
Given the complete failure of the Wildcat and the Jets' reluctance to deploy Tebow, the most famous Jet likely enters next season no higher than second on the depth chart. Sanchez's contract extension almost absolutely guarantees that he'll be back next season, but he's given the team plenty of reason to look at other options. If the 49ers, a first-place team, are allowed to turn away from their championship-game veteran quarterback, the last-place Jets can at least entertain the thought.
If Tebow didn't exist—and with him the fact that switching starters means switching the whole offense—McElroy probably would have gotten a shot before now. This lost season is still a month from ending, and another one is on the horizon (the Jets have seven players eating up $80 million of next year's cap, with $45 million freed up for 46 other players). It's not too late to see what McElroy can do.