Last Wednesday, in North Carolina's game against Florida State, Joel Berry tried to argue with official Ted Valentine about a non-foul call after he was held while trying to catch a pass. It didn't go well, which is to say that it didn't happen at all. Valentine just turned his back on the Tar Heels' senior guard, and came off looking like a dick.
It was a dumb thing for Valentine to do, but it was a good representation of the growing communication divide between players and officials in college and especially in the NBA. It was also very Ted Valentine, and maybe something like the final straw for a lengthy career that's been heavily marked by unprofessional conduct.
Just the night before the Berry game, Valentine made a theatrical production, down to a one-man kickline, in calling a completely incorrect foul, and his belief that he's part of the night's entertainment has made him one of the more notorious characters in college basketball for some time. But Jay Bilas and the rest of ESPN picked up specifically on the Berry incident—which, in fairness to Valentine, was a uniquely bad moment and something different than flamboyantly flubbing a call—and as a result it has snowballed into a big controversy. Valentine even says this might be the end of his career. From an interview with The Athletic:
"I'm thinking about retiring," Valentine said. "I've had enough of people blowing up stuff. I think I've had a stellar career, and I think it's time to get ready to walk away."
G/O Media may get a commission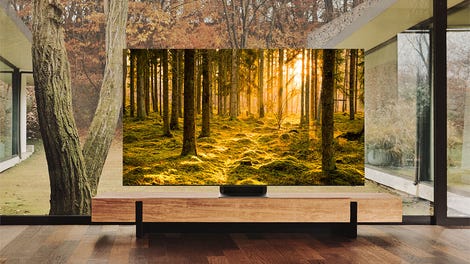 Up to 40% off
Samsung Smart TVs
Scoff all you want at the idea that "TV Ted" would ever willingly walk away from a spotlight, but Valentine went on to say that the Big Ten took him off two games this weekend because of the incident with Berry, and he also chose not to take the option work Georgia Tech's game on Saturday. Valentine says he intends to work his ACC assignments this week, but even just those few days off is a lengthy stretch for one of the game's most prolific and relentlessly visible refs. Because of that one moment in which Valentine decided to turn his back on a player, college basketball fans might suddenly receive something they've been wishing about for years.