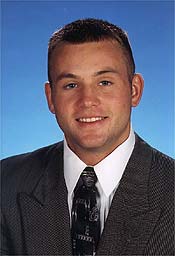 I guess the call-center job is not going so well. The felony charges are rape, aggravated kidnapping and sexual assault.
Court records say the victim accused Dupay of taking her by force and raping her on the floor of Room 119-2 of the Stein Ericksen Lodge. According to the documents, the victim estimated that Dupay hit or kicked her 150 times after locking the door of the room. The victim said Dupay told her he would catch her and kill her family if she attempted to leave, according to court records.
In the report, Dupay said it got "a little rough" but denied raping her. According to court records, Dupay told investigators, "How can you rape someone you love?"
Back during the 2000 NCAA championship game between Florida and Michigan State it seemed like the Florida backcourt of Teddy DuPay and Brett Nelson were going to have a lot better lives than you or me. Now, not so much.
Ex-Gator Dupay Charged in Rape [Gainesville Sun]

Teddy Dupay, Keeping Himself Busy [Deadspin]