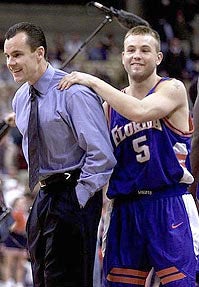 Remember Teddy Dupay? The scrappy, easily hateable Florida guard who left for the NBA early because of a gambling probe and ultimately went undrafted? He bounced around some overseas leagues and then pretty much left basketball for good at the age of 25.
What's he doing now? Aw, you don't want to know. He's working as a telemarketer in Utah. Really. In one of those "man, athletes are totally unequipped for the outside world" stories, we also take a look at former Red Sox A's outfielder Adam Piatt (doing quite well for himself as a financial planner for Merrill Lynch) and former U of Miami football player Warren Williams (not doing as well, working the third shift at a beverage distributor).
But the real story is Dupay, who says he hasn't picked up a basketball in a year (he's 26). He's a telemarketer for the Whitney Education Group in Salt Lake City. The worst part? His parents' defense of his job.
Dupay's new job has relieved his parents, Ed and Pam. "We were very worried," Ed Dupay said.
Yeah, see, you hate to see that.
When The Cheering Stops [Southwest Florida News-Press]