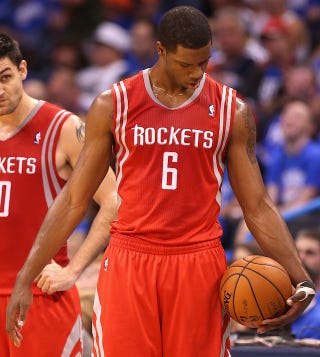 Rockets forward Terrence Jones is apparently that guy after leaving the bars at closing time.
Around 2 a.m. today, Jones had just left a bar in his native Portland with a group of people when he allegedly decided to fuck with a couple of passed-out homeless guys. One problem: A patrol cop happened to see everything he did.
Here's KATU:
While watching the group walk away from the bar, the sergeant observed a man, later identified as Jones, walk by a doorway where two homeless men were sleeping, according to police spokesman Sgt. Pete Simpson.

The sergeant said Jones yelled, "Wake up," then raised his leg and stomped down on one of the man's legs.
The man's leg did not require medical attention. Jones was charged with harassment and released later this morning.
[KATU]
Photo: Getty