The Houston Texans are 8-6, but trust me—it has been a slog. By far the most exciting moment of the season came yesterday afternoon, when head coach Bill O'Brien yanked QB Brock Osweiler from the game after his second pick, and the crowd roared its approval.
Texans owner Bob McNair praised O'Brien for the move—mostly because it worked, as Tom Savage led Houston to a comeback win over the Jaguars. (Which cost Jags coach Gus Bradley his job; Tom Savage is a career-killer.)
"I'm just glad I wasn't the one that had to make that decision," McNair said. "I mean, that was a gutsy call. Give coach credit, he made a change and it was for the good of the team. We benefited from it. Now we have three good quarterbacks and we are proud of all of them."
Osweiler has been bad in his first season with the Texans. He's 27th in the NFL in completion percentage, 29th in yards per game, 30th in passer rating, and, up until he was benched, the only starting QB with more interceptions than touchdown passes. So what, exactly, was gutsy about pulling him? His contract situation, of course.

Osweiler, who built up his mystique in Denver by not playing and then by failing to take the starting job from Peyton Manning's corpse, is getting $37 million guaranteed from Houston this season and next. (As an aside, John Elway often gets called a genius for letting Osweiler walk, but he did offer the dude $32 million guaranteed. And he drafted Brock with Russell Wilson and Kirk Cousins still on the board.)
G/O Media may get a commission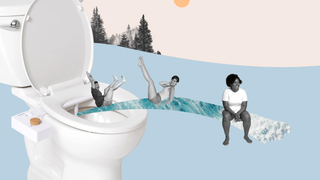 17% off
Tushy 3.0 Warm Water Spa Bidet Attachment
NFL teams rarely seem to grasp the concept of sunk costs—maybe because it makes the front office look bad—but if Houston is paying Osweiler whether he starts or sits, the only valid reason to play him is if you think he's truly the best option.
"We don't make decisions on how much a guy gets paid," O'Brien said. "We make decisions on what's the best way to win a game. That was the decision we made today, and I thought today, it worked out OK."
Savage, a fourth-round pick in 2014, hadn't appeared in a game since Week 15 of his rookie year. Lord knows if he's the better option going forward—he was good yesterday, going 23-of-36 for 260 yards in relief—but I think the Texans about know what they have in Osweiler, and it's not good.
O'Brien said he hadn't made any decisions on who will start the next game, Saturday night against Cincinnati. But Osweiler sounded glum as all heck:
"I completely understand why coach did what he did," Osweiler said. ".. It didn't surprise me. When it happened to me prior obviously with a different team and a different season, it was to spark the team and sometimes that's what it takes.

"Obviously, I think there's been a common denominator throughout the season of our offensive struggles. Certainly, not saying it's me, but we need to sit down and we need to figure out what that common denominator is and continue to progress as an offense."
I think Savage will start against the Bengals, and I think he'll be on a relatively short leash (there's usually a reason a guy can't get off the bench for three years), and the Texans still may limp into the playoffs—they're tied with Tennessee atop the perennially unfun AFC South, with Indy a game back. This is really not a quarterback controversy worth having strong feelings about.