For the fiscal year ending Aug. 31, Texas A&M received a mammoth $740 million in pledges and gifts, according to an email sent out by chancellor John Sharp. When it's all collected and finalized, it should be an all-time record for a public university. And make no mistake: it's about football.
Jokic? Embiid? The NBA MVP is obvious... right? | Keep it a Buck(et)
Let's put that number in context: The previous year, when A&M was just a mediocre Big 12 team, the university's fundraising haul was just $181 million. One move to the SEC, one stadium renovation drive, and one Johnny Manziel later, and donations went up more than 400 300 percent.
Ed Davis, president of the Texas A&M Foundation, chalks up the increase to the "euphoria" over the Aggies.
"People ask me all the time if you have a winning football team, do you raise more money," Davis said. "In normal times, the statistical data wouldn't support that, but in an era where we are in, effectively, in the news everywhere and you have a young man like our quarterback who has been a media magnet and you have the success you have, I do think that euphoria does spill over into success in fundraising."
G/O Media may get a commission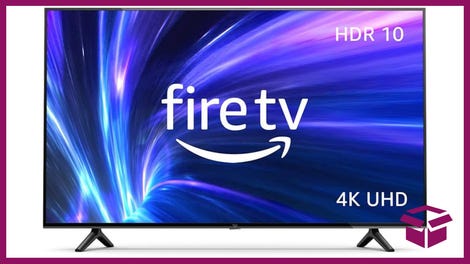 42% Off
Amazon Fire TV 50" 4K Smart TV
Of the total, $271 million was donated to the 12th Man Foundation, A&M's athletics booster club. But administrators believe donations were up across the board in large part because of the on-field success. "Football is one heck of a megaphone for us to tell our story," chancellor Sharp said in an email to donors.
This is a major failing of those studies that indicate programs don't generate the sort of money that could pay players a living wage, since they ignore football's role in fundraising. The studies that do take into account fundraising only quantify donations directly to the athletic departments, and not the overall increase in giving when a football team is good. Even at the schools where athletics receive subsidies in the form of student fees and state money (221 of 228 D1 schools last year, including Texas A&M), individual programs are generating millions, tens of millions, even hundreds of millions for their universities, and it's not trickling down.