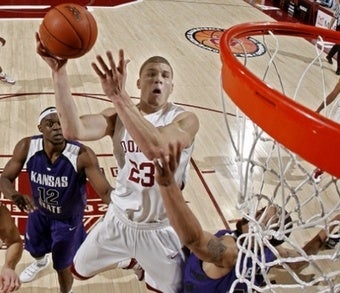 Yes, the Longhorns and Sooners can argue for eternity about who won the Big 12 South this fall, or they can use the entirely different athletic pursuit of basketball to sort it all out.
Once this game is decided tonight, all disputes between the schools, nay, the two states, are henceforth terminated. That's the beauty of sports, folks! The way it so clearly and cleanly ends all debate. Also, the way the light shines off Blake Griffin's nearly bald head as he expertly collects his double-digit points and rebounds, pairing them off two-by-two, like cute little endangered animals waiting to be rescued from the flood.
Oh, yeah. Hero worship. That's the other thing I love about sports.
Anyway, this Top Ten matchup will immediately follow the Top 20 matchup between Louisville and Notre Dame, making tonight's TV double-header an excellent time to start weaning yourself off of college and pro football. Unless, you're a New York Giants fan. You folks may continue to wallow in self-pity for as long as you like.
Game To Watch: Texas at Oklahoma [SI]
Game Preview: Louisville [Irish Eyes]
Let's do this again [Card Chronicle]