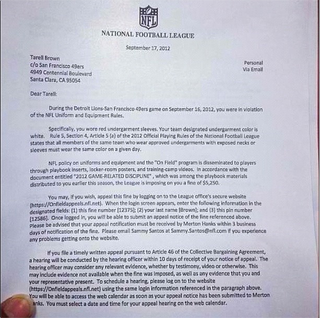 Last night, San Francisco 49ers cornerback Tarell Brown tweeted out a photo of a letter he had received from the NFL, which alerted him to the fact that he had been fined $5,250 for wearing red sleeves during his game this past Sunday.
Players tweeting out photos of their fines is something we've seen before, but this is a special case because Brown's letter included information that he—and only he—was meant to use in order to appeal his fine through a secure NFL website. Oops.
Obviously, we logged in to the site. We learned that Merton Hanks (Merton Hanks!) will be hearing Brown's appeal today at 4:30 p.m. (EDT) via teleconference. Oh, and the call-in number is (212) 450-2648. So, if you want to add your own two cents to Brown's appeal, or if you just want to say hi to Merton Hanks, you can go ahead and do that.
Here is a screenshots of the site, for when it is inevitably lost to us:
Via Matt Maiocco