Adrian Peterson tore a meniscus in his right knee on Sunday night, and announced today he's going to have surgery tomorrow to repair it. In the absolute best-case scenario, he'll only be back for the playoffs. Much more likely, he's out for the season. And after that?
Peterson injured himself on this carry late in the third quarter of the Vikings' win over Green Bay, and was helped off, bizarrely, through a restaurant.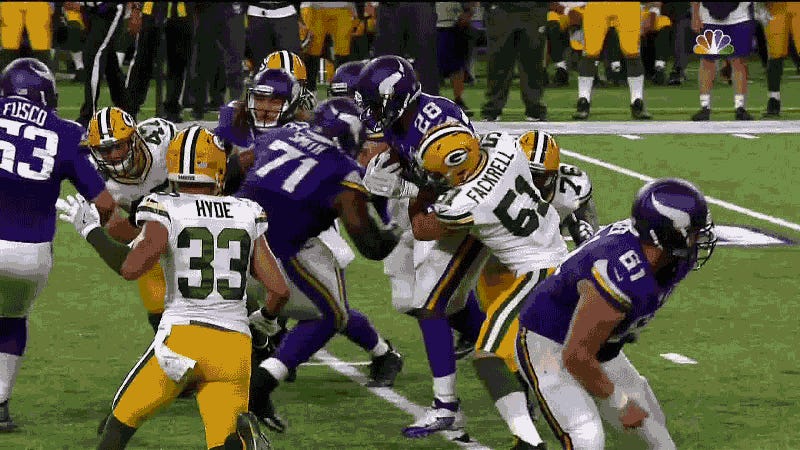 The meniscus tear—a "bucket handle tear," to be precise—was confirmed by MRI the next day. Peterson said he was told that the minimum recovery time is three to four months, which would be December or January, and "up to six months." Peterson has come back toward the shorter end of rehab projections before, but he's five years older than when he tore his ACL and MCL in December 2011 and impressively returned for the start of the next season.
Matt Asiata is listed as next up on the depth chart, though Jerick McKinnon is probably the better back. The Vikings also signed Ronnie Hillman today, after Peterson made the decision to have surgery.
The Vikings will have a big decision to make during the offseason. Peterson is scheduled to make $18 million in 2017, a huge outlay for any player, let alone a running back who'll be 32 years old and coming off a big injury. They will, it's safe to say, either force him to restructure his contract or release him outright. And whatever happens, it'll happen before Peterson's $6 million roster bonus comes due when the league year begins on March 9.