Yes, drink it in. Sad Dmitry Medvedev and sad Vladimir Putin will be one of the enduring images of hockey at these Olympics, given Russia's quarterfinal exit at the hands of the Finns. But despite the photo rocketing around the internet right now, just know that it was actually taken Sunday, during Russia's shootout win over Slovakia. The general sentiment remains.
Russia bowing out without a medal is a big news story—they are the host nation, and the team selection was an unmistakable attempt to declare the quality of the KHL—but as far as hockey goes, no one should be shocked. Finland, bronze medalists in Vancouver and silver medalists in Turin, are legitimately a good team. They are fast, cohesive, a healthy mix of international veterans and young stars in the making, and they have an elite goaltender in Tuukka Rask.
Russia was flawed from the beginning. They iced an average set of defenseman, in front of a muddled goaltending situation. (Semyon Varlamov inexplicably got the start today, and was pulled after three goals.) The coach, and numerous coaching decisions, were suspect. They left three points on the table in the group stage, forcing them to play an extra game. This was an upset, but not much of one.
There will be a tendency to blame Russia's superstars, of which there are many, but this was a team failure. Some of the best players in the world are Russian, but Russia is not one of the best hockey nations in the world, and has not been for a long time. Olympic success has dried up since other nations began sending their pros, and the Russian/USSR national team has not won a true best-on-best tournament since 1981's Canada Cup. Russian hockey dominance is a Cold War-era relic.
This result should be a bit frightening for American fans. Team USA nearly/should have lost to Russia—the same Russia team that couldn't score on Slovakia and led for all of 1:27 against Finland. If today's game proves anything, it's that the Americans haven't truly been tested yet.
G/O Media may get a commission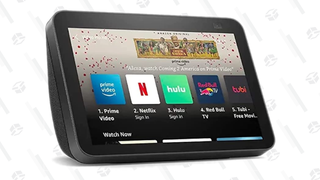 But that fretting can wait until a semifinal date with Canada is set. In the meantime, you want to revel in Russian defeat. So while sad Medvedev and sad Putin is a fact-checking lapse, there are plenty of real photos of sad Russian fans for you to enjoy.