With the AFC West lead and an inside track on a playoff bye on the line, Thursday night's game in Kansas City provided a rare national audience for the Raiders, and for MVP candidate Derek Carr. It went poorly for him, and as Carr goes, so go the Raiders.
The Chiefs won 21-13 to move to 10-3, atop the division after sweeping the season series against Oakland, and Carr's line was miserable: 17-of-41 for just 117 yards. His passer rating of 49.1 was the lowest of his two-year career, and both his yardage total and his 2.85 yards per attempt were the second lowest in NFL history for quarterbacks attempting more than 40 passes in a game.
"It was definitely a bad night, no way of getting around that," Carr said. "I hate to have a bad night coming on this one, out of all the games we've had. Obviously, we didn't do enough.

"I feel very responsible for that because of being the leader of the offense and the team. I feel sick to my stomach when we put something like that out there on film. It hurts, I can promise you that. I put too much time into this to go do something like that."
It is a credit to Carr that, even on a night he was clearly off, he didn't give the ball away. But the Raiders offense simply couldn't move the ball down the field, and couldn't do anything when handed excellent field position. Five of their seven first-half drivers were three and outs, and while a pair of second-half turnovers twice gave them the ball on the Chiefs' 18-yard line, they came away with just three points total from those two drives.
Give the Chiefs defense all the credit in the world (Justin Houston's return has been huge), but the stars aligned against Carr in this one. The subfreezing temperatures and bitter wind made airing it out more difficult than usual, and Raiders receivers dropped five passes, not including a potential fourth-quarter bomb to Amari Cooper that would've gone for a touchdown and changed the entire complexion of the game. That's 36 drops on the year for Carr's receivers; he entered the game with the league's most dropped passes and yards lost due to drops.
G/O Media may get a commission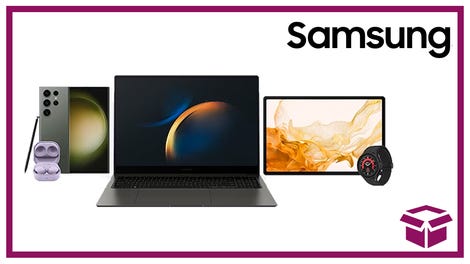 24 hour deals
Discover Samsung - Daily Deal
And then there's the pinky, which Carr grossly dislocated two weeks ago. He claimed it wasn't bothering him, but that's a lie. He had too many throws that were just plain off-target, and NBC cameras showed how he wasn't using that finger to grip the ball, and grimaced when he threw.
Oakland is 0-2 against the Chiefs and 10-1 against everyone else, but even if they win out, they may still have to play in the wild-card round, thanks to the Chiefs' surge. Carr now has 10 days to get the pinky right, and that matters more than anything else. Bye or not, these Raiders aren't going very far without him throwing like his old self.